Before Christmas, Oxford was covered in snow for half a week. Here, Rob shares a poem his class wrote inspired by experiencing Oxford in the snow and shares his own reflections on the magic of a white Christmas (well, almost!) in the city of dreaming spires.
Snow
Snow is like a cold blanket covering the city.
Snow is like the coat of winter.
Snow is like anger – it melts over time,
Melting and mending a cold winter soul.
Snow is like a memory.
Ephemeral.
The poem above was composed by members of the Comparative Culture and Communication elective at EC Oxford English Centre just before Christmas when Oxford was still covered in the 'cold blanket'.
And now, as we enter 2018 and the snow has gone and seems unlikely to return, the days where Oxford was transformed into a world of white do indeed seem intangible, almost already forgotten.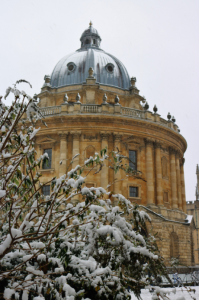 Oxford only sees a heavy snowfall where the snow settles like this once every three or four years and on this occasion the snow brought a sense of quiet calmness to the city, as the usually busy thoroughfares were peopled by only the brave and determined.
Of this courageous band were counted many EC Oxford students, who came into the city centre for their lessons and to see the city in a new light. In fact, for some students, this was their first time experiencing snow for themselves!
Oxford certainly seems to suit wearing the 'coat of winter', as the pictures included here show – which were taken by Sarah, one of our current students – thankyou Sarah!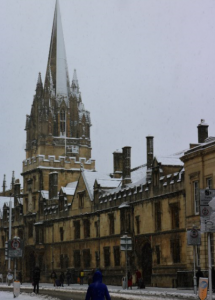 To my mind, the white landscapes evoke the literary world of Narnia in 'The Lion, The Witch and The Wardrobe'. C.S Lewis, the author, was himself no stranger to Oxford winters as a fellow of Magdalen College for thirty years and he memorably dreamt up the world where it was 'always winter, and never Christmas'.
Well, fortunately for our students at EC, Christmas did arrive, and now it feels to me like the New Year is swinging into action.
Those days when time stopped and the snow fell as Christmas 2017 approached seem already distant, out of reach, 'like a memory'.
I hope we'll still find moments to pause, take stock and reflect this year even without a heavy snowfall forcing us to slow down, as the weather gets warmer, the days get longer and our diaries get busier.
With or without a White Christmas in twelve months' time, I hope you have a magical 2018.
Comments
comments