Get to know our teacher Lorna better by finding out where she's from and what she likes doing in the time not taken up by teaching EC's IELTS courses in Oxford!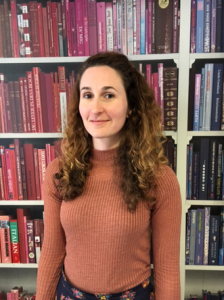 Where are you from originally? Can you describe it to us?
I'm from Oxford (a rare native!) – you know what it's like you live here too: beautiful historic buildings, amazing green spaces, steeped in culture and so on…
What do you like about Oxford?
Never being more than 5 minutes walk away from a bit of grass or the river. Oh and my family, they live here too!
What do you like about teaching English?
I feel like the luckiest person in the world, getting to spend my week with so many people from different cultures. I learn something new every day and I never get bored of it.
What do you do in your free time?
Storytelling, walking by the River, spending time with family and friends, making Lego cars with my son, visiting all the great museums and cafes and cultural places of the city…there's no space for any more!
Many thanks, Lorna – and look out for Lorna's Storytelling Club as part of our Stories Week in our Social Programme!
Comments
comments