Sadly, 2018 starts with the departure of Ryan Johnson who has been a member of our teaching team for several months now.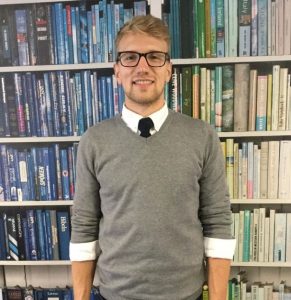 Ryan joined EC Oxford English School after relocating to the area from Canada last September. His previous work experience included teaching for EC Toronto, so he was not new to the colour orange or the glass walls and he quickly fit in with our British teaching team!
Ryan's first day teaching at EC Oxford was the 3rd October 2017 when he took over the Elementary class. Since then, he has taught the Elementary students regularly, as well as taking on a few of our elective classes.
Ryan proved himself to be entirely conscientious and reliable, and his additional help and support over the autumn months of 2017 when many teachers were off sick will not be forgotten.
With his very easy-going manner, Ryan was a popular member of the teaching team and many will remember his role as 'Fred', Scrooge's easy-going nephew, in 'A Christmas Carol' which the Oxford staff staged for our students mid-December.
Ryan has been offered a job elsewhere doing something entirely different but related to his MA studies which will be of great benefit his future career plans. He has enjoyed his time at EC Oxford very much and will miss his students as he embarks on a new career.
We wish Ryan the very best for the future and thank him for his hard work and dedication over the last 3 months.
Comments
comments