We're really happy to welcome Giulia to our team as Student Services Intern here at EC Oxford English School. Read on to get to know Giulia better!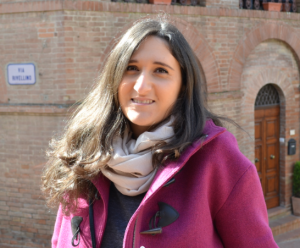 Where are you from? What is it like?
I am from Italy and live in a small town in Tuscany which is not very far from the famous (and beautiful) Florence. It is a very nice and vibrant part of the country, where seaside, hills and mountains, as well as countryside and cities, coexist.
I would recommend a visit to anyone who loves art, nature and good food, you will not be disappointed!
What were you doing before you came to EC Oxford?
I completed my Master's Degree in Science of Economics just one month before coming to EC Oxford, so my last months have been mainly spent writing my thesis on media and competition, which I decided to write in English.
My decision to do so was driven by the desire to challenge myself by applying the skills I had learnt while I was preparing for my CAE exam and by the fact that my work would have been accessible to more people who might be interested in its content.
What is your role here? How long are you here for?
I am a Student Services Intern and you are going to find me both at the reception with Kylie and Giacomo and around the school until the end of March. I will do my best, as part of the fantastic EC Oxford team, in order to let students enjoy a wonderful experience.
Why did you choose to come to EC? What are you hoping to gain from your time with us?
I chose to come to EC because my previous experiences as a student and as an intern have confirmed my love of being involved with English education, together with the vibrant and international atmosphere surrounding such world, and from its website and the student testimonials I had read online I could understand that it is a school that truly cares about its students and is very modern and well organised.
Moreover, needless to say, Oxford is a stunning city.
I would love to gain a deeper understanding of the business of language schools, improve my skills and acquire new ones, and learn more about other cultures; I am sure this internship will have a positive impact both on my professional and personal development.
What are your plans after you leave EC Oxford?
Since I have just completed my studies, I am going to look for a job at the end of my internship. Matching my academic knowledge with what I am passionate about would be ideal.
For example, I would love to work alongside people coming from different parts of the world as I find that very interesting and eye-opening, since you can learn new ways of seeing and doing many things which you have seen and done in a different way until then.
What do you like doing outside of work in your free time?
I like to spend my free time with my friends and family, travelling, reading and watching TV series and period dramas (which also helped me improve my English!).
While when the weather is nice you will probably find me either having a walk or exploring a new city with friends, when it's pouring rain you will most likely find me at home drinking a cup of tea in front of a book or a movie.
I am looking forward to seeing all that Oxford and the beautiful surrounding areas have to offer and to buying some nice old books to read on a rainy day!
Comments
comments