Here, Doris shares her experience of EC Oxford English Centre. Thank you, Doris!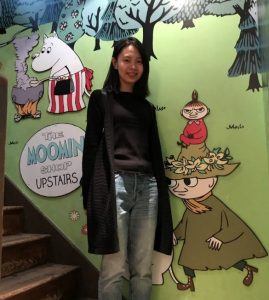 Studying abroad helps me to get to know myself better. Before explaining the reasons, let me introduce myself. My name is Ying-Yi, people also call me Doris. I came to Oxford from Taiwan to study English to prepare to enter postgraduate study.
I have been here since October 2017, which means I have lived in this lovely city for three months. This is my first time living outside my country for such a long time. Everything seemed fresh and interesting in the beginning, but I soon came across many unexpected challenges.
I started to feel tired of the unfamiliar culture and environment. Not improving fast enough also made me feel stressed.
To make matters worse, the language barrier impeded me from sharing my feelings clearly, even though I made a lot of hilarious friends. This made me feel isolated sometimes. However, I figured out it was also a good chance to communicate to myself.
Through this experience, I realised what I wanted and had found the confidence to work towards it. In other words, I knew myself better. Because of this, I can now handle the problems above with confidence.
Studying and living in a foreign country is not as easy as I used to think even though I just studied in a language school. Although it is sometimes difficult, I am glad I had the opportunity to come to study in the UK. I have gained more than I expected.
At EC Oxford, I have met friendly teachers and multi-cultural classmates from all over the world. The education system is responsive to students' need. Meanwhile, there are plenty of activities which we can join to experience British culture.
I have five more months of study here, and I am looking forward to the coming days.
Comments
comments