Only 30 seconds walk from our front door at EC Oxford English Centre is the perfect place for a takeaway coffee – using your 10% student discount of course! Here, our two students Carlos and Sarah tell us more about Combibos coffee – and why it's unique to Oxford – after conducting an interview with the manager at Combibos, Sue Hanss.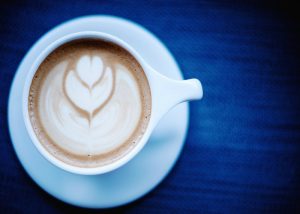 Don´t you think that having a high quality coffee or tea for less, while supporting a local business sounds amazing? Do you know what is even better? At Combibos coffee this is possible.
Combibos coffee is a family run business that was established in Gloucester Green. Sometimes spontaneous ideas can turn into a life's project. This is what happened to the Hanss family in 2007. Sue Hanss did not have to think twice when she noticed the shop was for sale. Having worked in a clothing shop previously she already possessed a solid knowledge of customer service. The friendly and warm atmosphere that she and her family developed helped them to establish a loyal customer base from day one.
Every young and thriving business needs a bit of luck. In this case, the family was very lucky to be approached by a representative of a local bakery who offered to provide them with cakes and other baked goods. Continuing their lucky streak, they soon got in contact with Union Hand Roasted who not only provided them with coffee but also educated them in the right use of their product. Furthermore, they started to collaborate with Tea People, another family run business which invests 50% of its profits into the educational development within impoverished areas of Darjeeling.
The coffee shop relies on long term staff which includes 6 full-time and 4 part-time employees. They serve products for which the focus lies on quality rather than the width of the profit margin, which distinguishes them from other coffee shops in the area. It is worth noticing that they honestly value their clients' opinions and therefore every trip to this shop is a memorable experience.
Comments
comments