Who wouldn't want to have the opportunity to win a prize? But what's the weekly raffle all about here at EC Oxford English Centre? And what even is a 'raffle'?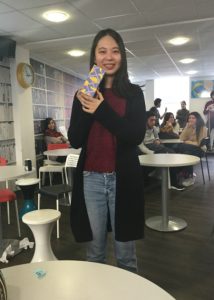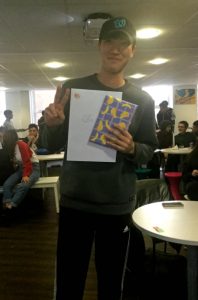 Well, here at EC Oxford students have the opportunity to win a prize every week.
How does it work? Students want to learn and do their best in class. We all know that. But when a student does something special, they receive a ticket with a number from their teacher.
It could be a particularly good piece of homework, or winning a game reviewing vocabulary, or challenging themselves to do something outside of their comfort zone. Whatever it is, the teacher has decided this student should have an opportunity to win the prize, so they receive this raffle ticket – and keep it safe!
A student can get more than one ticket during the week and each one has a different number and is a different colour.
On Friday, identical tickets with the corresponding numbers and colours are put into a hat. A student or teacher is chosen to choose a ticket at random and shout out which number it is – 'Green 162!'
Everyone then frantically checks their   tickets to see if they've won and the winner comes up to collect their prize and a certificate. This process is a 'raffle'.
What's the prize? It's often linked to our Social Programme in some way. So for example, last week was Chocolate Week, so the prize was a box of Belgian Chocolates. Yum.
We've had a great response to this since we started it last year and who knows, next time, the raffle winner could be you!
Comments
comments