Let's get to know more about our Student Services Coordinator Kylie, who has been part of the EC Oxford English Centre for a year!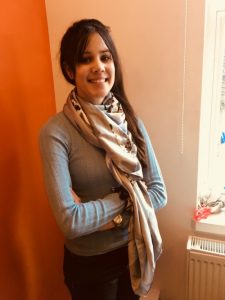 I am writing this blog on my one-year anniversary of working for EC Oxford and what a year it has been! They say time flies when you're having fun and this year has absolutely flown by.
Before coming to EC, I was very familiar with language schools. I had taught for several years in Thailand, Vietnam and Oxford, but moving into the student services and accommodation side of things was a brand-new venture for me. I remember thinking, how on earth am I going to remember how to use this complicated database and do all of these tasks? At times it felt overwhelming, there were challenges, as with any new job, but I overcame them and in the process learnt an awful lot and gained a brand-new skill set. We succeeded through an incredibly busy summer and a rigorous British Council inspection.
What I love about my job now is being lucky enough to meet and work with such interesting students from all over the world. I thought I might miss having that interaction in the classroom but in fact I still get to build a rapport with our student body and be helpful in a different way. I understand that accommodation and areas outside of the classroom are also a very big part of the student experience and it's important to get it right, to ensure that the students are comfortable so that they can focus their energies on their studies. I hope that the students here feel they can approach me to talk about anything; be it their accommodation, living in Oxford or just for a good chit chat.
We received our British Council results in the new year and EC Oxford did incredibly well. It was a testament to the great team that we have here (particularly the teachers) and a real boost to know that we are on the right track. There is always room for improvement though and there are lots of exciting new initiatives that we have started for 2018 which I believe will make the school and the student experience even better than it already is.
One year on and I feel such a strong affiliation with EC Oxford, what a wonderful place it is to work. EC Oxford is one of the smallest EC schools and you will often hear the staff talk about EC Oxford as a family – it certainly does feel that way. Everyone knows everyone on a first name basis and there's always a hello as you walk through the door. I am proud of our small but mighty team and I am proud to be a representative of such a lovely school.
Comments
comments