We are really happy to welcome our new Student Services Intern to our team here at EC English Language School in Oxford. Read more to get to know Miyo better!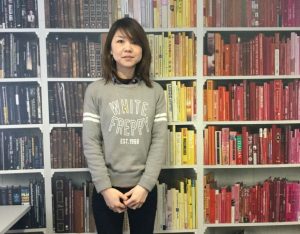 Where are you from? What is it like?
I am from Japan and my hometown is Kobe which is close to Osaka and located on the southern side of the main island in Japan. Kobe is not a big city, but you can find many fashionable shops and enjoy the mountains and beaches.  Also, it is famous for Kobe Beef which is expensive but delicious. Please visit my wonderful hometown!
How did you learn English? Have you got any tips for our students?
I studied English for several years when I was a secondary student in Japan. However, I could not get the opportunities to use English in real life. I realized that practising English in our life was quite important when I came to the U.K. in 2016.  After that, I tried joining a lot of international groups and volunteer work. At the same time, I focused on increasing my vocabulary and imitating native speakers by listening to podcasts and watching English movies. As anyone knows, it takes time to acquire English, but I believe if you keep studying every day, you will be able to improve your English skill!
What is your role here?
I am a Student Services Intern and my important role is to make student's experience in EC Oxford fantastic and valuable. I am so glad to join this school as part of the friendly EC Oxford team.
Why did you choose to come to EC?
I am eager to support students who are passionate about studying English. When I went to language schools like EC Oxford, I got a lot of help from the school staffs and I want to be like them for the students here. I also want to work in an international environment as I know it will broaden my horizons and it will have a positive impact on my life.
What do you like doing outside of work in your free time?
I have a wide range of hobbies. I like doing exercise like jogging and cycling. In fact I belonged to a Judo club for many years and actually I have a black belt. Also, I have been enthusiastic about taking photos since I started to live in the U.K. Probably, you can find me with my camera at beautiful places in Oxford during weekend! If the weather is not good, I usually enjoy making accessories like earrings and necklaces at home.
Comments
comments