Students at EC Oxford English Centre comment on how great it is to be in a city centre school. But there's already so much to enjoy if you don't even get out of Gloucester Green- the square where EC Oxford is located!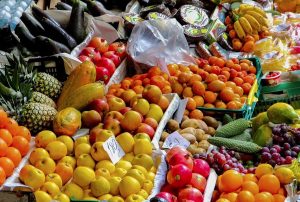 You don't have to step far outside EC Oxford's front door to get a taste of Oxford's quirky character. Just a stone's throw from us is Thirsty Meeples, a boardgame café where you can enjoy beverages and treats alongside mammoth boardgame sessions.
Just a few feet away is Combibos, a family-run coffee house, the perfect antidote to the feeling that you can travel across the globe but still end up in the same coffee shop!
If it's food you're looking for, we also have Buongiorno Buonasera, serving up delicious Italian dishes at affordable prices day in day out.
And if you're more keen on a restaurant experience, there's the similarly affordable Gino's Spaghetti House, just to the right of Combibos as you walk out of school. The generous portions are so tasty you'll still eat the whole plate, and it's another Oxford-based family-run business to boot.
Another draw that's right outside the school is the market which runs every Wednesday and Thursday, serving up a whole host of cuisines for students to enjoy from Chinese dim sum to Spanish paella, from Texan BBQ Chicken to moreish doughnuts and a whole host of things in between!
This is a traditional open-air market and it's great to see Gloucester Green transformed two days a week into a bustling, lively centre of activity.
Right in front of school on Wednesdays, there's a traditional greengrocer's selling great value fruit and veg.
So if you need a Vitamin C boost after one too many lunches consisting solely of the incredible Singapore noodles from the other side of the market, you just have to pop over here to select nectarines, plums, peaches, strawberries, or whatever takes your fancy.
As you can see, whether you need a quick cup of coffee in the morning break, a wide variety of lunches to choose from, or just something new to try when afternoon lessons have finished, simply head out of school and enjoy all Gloucester Green has to offer!
Comments
comments