As well as the English learning in our English courses in Oxford, there is also an amazing opportunity each weekend to join the UK Study Tours trips around the UK and Europe which are great value for money. Here Jonas tells us about his visit to Scotland.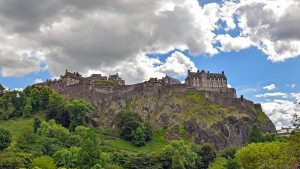 I set off my trip with Juan, David and Paula from Oxford to Scotland at 11pm on Friday 25 May. We were feeling tired because we had gone to a Farewell from a student. The journey took 7 hours by coach and so we arrived at 10am in Edinburgh and then we went to the most popular places.
Edinburgh is so different to Oxford, because the city is much bigger and there were so many people, it was really busy. The terrain isn't so flat like Oxford, it's always up and down and that is a reason why they built an absolutely amazing and historical castle.
In the evening we met each other at a bus station to go to the hotel. We were there just in time, because we had waited 1 hour for one drink in the restaurant. They weren't enough waiters for all the customers!
On the second day we went to the Highlands. The first stop was a beautiful waterfall in a forest, where we had the chance to take a lot of pictures.
After that we went to the Blair-Athol Distillery. It was really interesting and a nice experience for me, because we don't have a Scotch distillery in Switzerland and so it was a golden opportunity. The air from the area of the distillery always smelled like Scotch, because they were storing several hundreds barrel of Scotch in three warehouses. With a nice warmed feeling in the stomach we drove by coach to a popular place, which had a picturesque view over a river and a beautiful forest.
All in all the trip was a nice experience and absolutely fascinating and I had a great time with my friends from Columbia.
Comments
comments