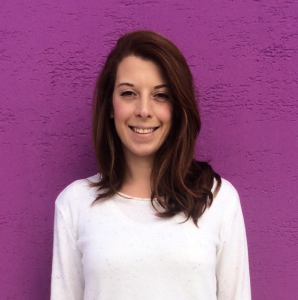 Find out more about Laurice, our new Student Services Coordinator, helping our students have the best possible time in their English Courses in Oxford.
Q: What did you do before you came to EC Oxford?
Before coming to Oxford I was an English Teacher in Antalya, Turkey for four years and a Teacher Trainer in Essen, Germany for a year. I moved back to the UK a few days before starting at EC Oxford in June.
Q: What is your role here in EC Oxford?
I am a Student Services Coordinator.
Q: What have you enjoyed about working at EC Oxford so far?
I love meeting the students from all over the world and learning about them and their cultures. The job is so varied – no day is the same and there is a real sense of accomplishment at the end of each day. I also have wonderful colleagues who have made me feel very welcome and a real part of the team.
Q: What do you like about Oxford as a city?
I love the diversity – there are so many different cultures and nationalities here. You can walk down the street and hear 10 different languages and eat food from a different country for breakfast, lunch and dinner. There is such a great variety of things to do for little to no cost, and every alley way has a hidden gem down it, waiting to be discovered.
Q: What's your hometown? Can you describe it to us?
I was born in Athens and then my family lived in Lebanon for a few years. We moved to England when I was a young child and I grew up in Leamington Spa just north of Oxford. Leamington is a beautiful Regency town and similar to Oxford in many ways – there are many beautiful parks and buildings as well as an abundance of local pubs and independent shops.
Q: Our school is all about helping people who are learning English, but have you learned any other languages? How did you learn them?
I completely immersed myself in Turkish culture when I was living there; most of my friends spoke only basic English so I picked up most of my language from them, as well as listening to Turkish music and reading (very painstakingly at first) Turkish books.
After 6 months I had a good grasp of the language and bought myself a grammar book to polish my skills; within a year I was pretty fluent. Now I'm back in the UK I still read the news in Turkish every day to keep up my skills.
Before relocating to Germany I listened to free podcasts and enrolled in a German course once I moved there, unfortunately (or fortunately, depending on how you look at it) for me, so many people spoke great English there, so my German is no way near as good as my Turkish!
Q: What do you like doing in your free time?
Having just moved back to England I'm spending a lot of time with family and friends who I haven't seen in a long time. I also love travelling and learning languages.
Q: What are your future plans?
My aim is to speak 3 languages fluently by the time I'm 30!
Comments
comments