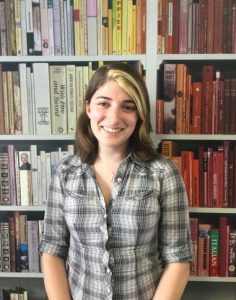 Find out more about Laetitia, one of our Students Services Interns, who's working hard to make sure our students have an amazing experience.
My name is Laetitia Bouchet and I am 22-year-old digital engineering student specialized in Management. In one year I will have my degree.
I am at EC oxford for an internship for 3 months. I work here as Student Service intern. I am welcoming students, helping students and teachers and doing administration tasks. This work is interesting. I am learning many things about organization and management, I am discovering many cultures thanks to the students. My job is not just doing academic activities there are also social activities with the students during which I can learn more about them. There is also a great atmosphere between colleagues which makes a good work team.
Oxford is a great city. In Oxford there are many beautiful monuments and I really want to visit them. Also, Oxford is quite a small city, so I can go everywhere by foot. They are many things to visit and to do which I have never tried before like punting.
Oxford and my hometown are different. I live in the country near the Swiss border. There are forests and many open spaces. It is a typical small village. But for the past 2 years I have been living in Evry near Paris for my studies near the campus with 3 roommates. This city is a modern city with too many buildings but with many buses and a mall. Sometimes I go to Paris at the weekend to go shopping or just go to see a show.
I am French, so my mother tongue is French. But thanks to my studies I learnt English as a first foreign language and Italian as a second foreign language. I only had language classes but to improve my English I decided to go to an English-speaking country. And thanks to my studies I have an international internship to do so it was the opportunity to come here. Also, I have the opportunity during this internship to go in class. I especially enjoy the IELTS Exam Preparation courses in Oxford which help me to prepare for my future exam.
But my life is not only my studies and the improvement of my English. I also like doing sports like running, hanging out with my friends and do some activities like going to the theatre, cinema, punting or just resting. Something I also like doing is reading a book or watching a movie.
After this internship I will go back to France and finish my studies to have my degree. After that I would like to work in another country like the United States of America. I would like to work as project manager in IT.
Comments
comments