Don't you love food from other countries? Well, when you learn English in Oxford with us here at EC, you don't just learn English, you also find out about people, places and yes, food from outside your own country. Here, three of our Intermediate students outline the main features of their national cuisines.
Spanish Cuisine – Rebeca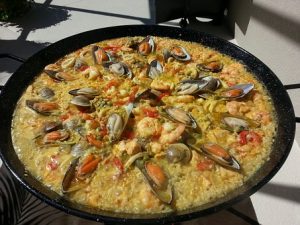 Basic ingredients
Olive oil is a staple of the Spanish diet and is the main culinary condiment. It is used in the majority of meals. The Spanish eat a large variety of meat, vegetables and fish. The Spanish diet is well-known as a Mediterranean diet including all kinds of healthy ingredients.
Typical Dishes
One of the most well-known dishes in Spain is 'Paella'. It is a typical dish consisting of rice as the main ingredient and others like garlic, tomatoes, seafood, meat, chickpeas, and some vegetables. This dish is stir-fried first with some of the ingredients, then water is added and it is boiled with the correct quantity of rice.
Daily eating
People in general eat five times a day; breakfast, mid-morning snack , lunch, afternoon snack, and dinner. Fruits and vegetables are always included in our diet. A breakfast can consist of coffee with milk, toast, orange juice and some cereals or fruit.
Table manners
Spanish people usually take a long lunch break and after that have some coffee or tea. Before starting it is very common to say 'Que Aproveche' and wait for everyone before you start.
Italian Cuisine – Giulia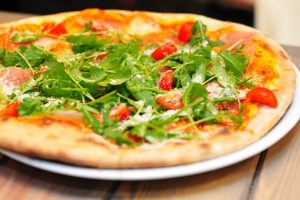 Bread is a staple of the Italian diet. The Italians eat bread with every meal. Bread is made with flour. Flour is also used to make pizza. Italians tend to eat pizza with a huge variety of ingredients including meat, vegetables, cheeses.
Italians hardly ever eat pizza with sweet sauces but in my opinion this is also really good.
Pasta is another staple of Italian cuisine. We cook it with many different sauces, like tomato sauce, pesto, and meat sauce.
Some of the time foreigners eat pasta with ketchup instead of tomato sauce, but this is a mistake.
In general, Italians eat three of four meals a day: breakfast, lunch, an afternoon snack and dinner.
A traditional Italian breakfast consists of milk with coffee, orange juice and cereals or croissants. It is not a heavy breakfast.
Russian Cuisine – Evgenii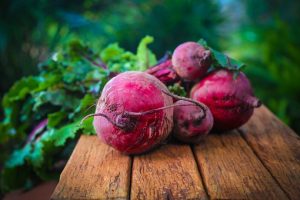 Russian cuisine is one of the most authentic in the world. It was invented by poor people. That is why all traditional Russian dishes are fattening and cheap. Russians normally use available ingredients or ingredients that they can easily find in order to cook a dish. It can be vegetables, fish, or meat.
People in Russia usually have small greenhouses where they grow vegetables. Fish is also popular for meals, but usually only in towns by the shore.
The best-known dish in Russian is Borsch, eaten with a piece of bread and garlic. Borsch is a soup that includes beetroots as one of the main ingredients, which gives the dish its red colour. As a rule, Russins put meat in this soup, but it also can be purely vegetarian. Borsch consists of beetroots, potatoes, tomatoes, cabbage, garlic onion, and carrot. It may be served hot or cold, but most Russians tent to have it hot.
People in Russia generally eat three meals a day: breakfast, lunch and dinner. A traditional breakfast consists of a huge variety of porridge. Some people prefer to eat cooked semolina; others like oatmeal.
Lunch is the main meal of the day. As a rule, lunch is in the form of a three course meal – soup, main course and dessert. As a main course, Russians have meat served with vegetables or rice. As for dinner, people in Russia normally skip it or eat something not too heavy.
There are no special rules or table manners, but Russians tend not to chew too loudly. They also hold the knife in the right hand and the fork in the left hand.
Comments
comments