We have had an unprecedented summer in terms of weather this year, two months of glorious sunshine, scorching afternoons and balmy nights that seemed like they would never end! There was not an empty beer garden, park or outdoor space in Oxford and it was certainly a shock to the system (but a welcome relief for some) when the colder weather started coming. The great weather gave us a perfect opportunity to enjoy some of Oxford's finest past times and sights, from punting on the river to picnics at Port Meadow to exploring some of Oxford University's finest colleges and gardens. Here we go back and look at some of the highlights of our social programme from the past month.
Punting on the River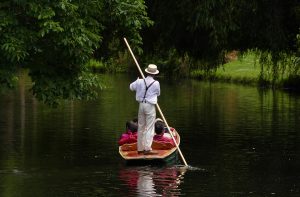 What could be more quintessentially Oxford than punting? When one thinks of Oxford and punting a vision of an idyllic journey down the tranquil river comes to mind, perhaps whilst reciting some poetry and remarking on the picturesque sights sailing past. The reality is somewhat different, as most of our students discovered very quickly! Unless you hire a chauffeured punt (they make it look incredibly easy!) be prepared for a lot of hard work, testing your core strength and balance, as well as plenty of laughs! Luckily, only one person steers the punt, so the other four people can lounge and enjoy the sights such as the beautiful Botanic Gardens, Christ Church College Meadow and the Magdalen School rose gardens. Experiencing Oxford from the river is a completely different experience, the bustle and noise of the busy streets and city centre fades away and it really is relaxing and serene floating down the river.
Top Tips for Punting
1. Bring a picnic – what a better way to enjoy your lunch than on the river, we recommend strawberries and some sandwiches (and Pimm's!)
2. Be prepared to get a bit wet – until you get the hang of manoeuvring the punting pole the people sat in the boat may get splashed!
3. Don't wear high heels shoes – Unless you have the balance of a trapeze artist then wear flat shoes only!
Oxford Colleges Tour – Worcester College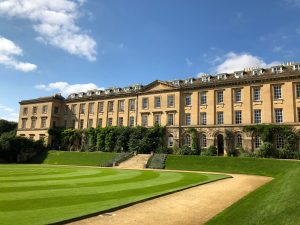 Located just a few minutes away from EC Oxford English School is the incredible Worcester College. It was founded in 1714, however there has been a learning institution on the site since the 13th Century. An interesting fact about Worcester College is that the gardens provided the inspiration for Lewis Carrol's Alice In Wonderland and it is easy to see why; there are beautiful fragrant flowers in every flower bed and lots of weird and wonderful looking plants! Worcester College is set in 26 acres of gardens and wooded land with a lake and a stunning courtyard. When you first walk in the first thing that captures your attention is the bright green and perfectly manicured lawn of the courtyard and the stunning architecture. The buildings range from medieval cottages to modern accommodation buildings and the mixture of old and new makes this college very interesting. And above all, entry to the college and it's grounds are free! Make sure you do not miss this stunning gem of Oxford, we will certainly be visiting again!
Top Tips for Worcester College
1. Grab yourself a blanket and a copy of Alice in Wonderland and let yourself fall through the looking glass into the weird and magical world of Lewis Carroll!
2. If you want to really immerse yourself have a 'mad hatter's tea party' – bring some cakes, some friends and a thermos of tea.
3. Feed the ducks in the lake
August was a wonderful month, and we are really looking forward to seeing what September has to offer!
Comments
comments