It's been such a pleasure to welcome Eleni to our teaching team here at EC Oxford English Centre. Here you can find out more about her, including finding out which other languages Eleni speaks and the most exciting place she's ever lived (it was minus 35 degrees!)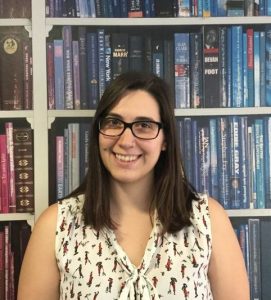 Q : What did you do before you came to EC Oxford?
Before I came to EC Oxford I was a Senior Teacher in a summer school in Guildford. I also taught in Spain for 1 year and Greece for 3 years.
Q: What do enjoy about working at EC Oxford?
I enjoy meeting students from all around the world and helping them achieve their goals in a comfortable environment. EC Oxford offers small sized classes so I have the chance to address each individual students' needs using the latest technology to make lessons fun and interactive. There is always something great going on for the students: clinics, competitions, events and more, also, there is always a great buzz in the school, it's never quiet!
Q: What do you like about Oxford as a city?
I love the history of the city and visiting all the beautiful colleges. It is a very welcoming city with lots of great bars and restaurants to enjoy.
Q: What's your hometown? Can you describe it to us?
I come from Greece's second city, Thessaloniki. It's a beautiful city with a lovely seafront full of cafes and restaurants. There is history round every corner, from Roman palaces to Ottoman castles, the city is a wonderful place to spend your time. From the highest point in Thessaloniki you can see across the Gulf of Thermaikos and all the way to Mount Olympus!
Q: Your job is all about helping people like us who are learning English, but have you learned any other languages? How did you learn them?
I have been a student of English for my whole life and I still learn new things about English everyday. I studied English Language and Literature at University and have been living in England for 2 years. I studied French for 6 years and Italian for 2 years. I did my Erasmus year in Finland where I studied Finnish and I am currently learning Spanish.
Q: What do you like doing in your free time?
In my free time I am studying for my next teaching qualification and I enjoy reading about teaching too. I like to travel and see different places in the local area and abroad.
Q: What is the most exciting activity you have ever done?
At the age of 20 I moved to Finland to study. This was the most exciting thing I've ever done: there were new people with a new culture and an interesting language to learn. Living in minus 35 degrees was a crazy experience and one I will never forget. It was my dream to live there and I am very happy that I achieved that dream.
Comments
comments