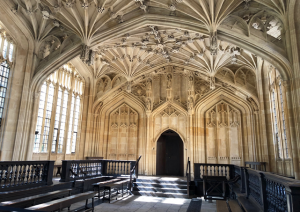 Once a year Oxford opens its doors and invites the public to explore the colleges, libraries and other exclusive sights for free. It's a wonderful opportunity to have a look around and discover beauty of some of Oxford's finest places. Every Sunday we invite the new students starting their EC Oxford Language Courses on the Monday, to join us for a walking tour of the city, so it was a great chance for our new arrivals to see what Oxford had to offer – and it certainly didn't disappoint!
We explored Balliol and Trinity Colleges, famous for their rivalry due to their close proximity and equally famous for their beauty. The day was bright and sunny so wandering around the gardens was a real treat, we also had the opportunity to explore the chapel at Balliol which has an impressive stained-glass window.
Next, we went into the Sheldonian theatre and climbed the many stairs to go up to the viewing point on the roof which boasts 360-degree views of Oxford. Seeing the rooftops of all the colleges, churches and other buildings was a spectacular sight and I would recommend everyone to go up and experience Oxford from the skies, especially if it's a clear day as you can see for miles around.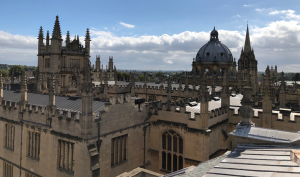 There were some Harry Potter fans in the group, so it was a real treat for them to enter the Bodleian Library and the Divinity School where a number of scenes were filmed. The interior of this room is breath-taking; elaborate patterns adorn the ceiling and walls, and the sun shining through the windows creates a beautiful pattern on the floor, it really is a room where you can spend some time in and soak up the atmosphere.
It was a fantastic trip around the city, our only complaint is that we wish Oxford Open Doors would happen more frequently! However you can go and visit these places all year round, for a small fee.
Comments
comments