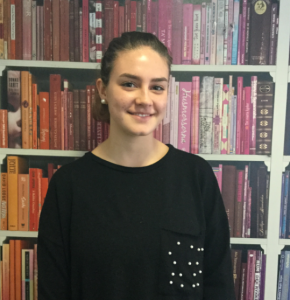 We Welcome our new Students Service Intern Laura from Austria at our Oxford English School.
Q: What did you do before you came to EC Oxford?
Before coming to Oxford I went to school in Austria.
Q: What is your role here in EC Oxford?
I am a Student Services Intern.
Q: What have you enjoyed about working at EC Oxford so far?
I enjoyed that everybody has made me feel very welcome. It is wonderful that everybody – from the staff to the students – is really friendly and nice. The job is varied and it is exciting for me to meet many people from all over the world! I am looking forward to the next weeks.
Q: What do you like about Oxford as a city?
Oxford is one of the most beautiful cities I`ve ever been to! I really love the style and architecture of Oxford. What I also like is that the city is a melting pot of cultures and you can experience so many different things!
Q: What's your hometown? Can you describe it to us?
I was born in Vienna the capital city of Austria and grew up in Klosterneuburg. It is a city full of nature and history. We are very proud of the over 900 year-old baroque Monastery which is also home to one of the oldest and biggest wine estates in Austria.
What I like is that it is a city surrounded by forests, mountains, rivers and nature but still is near to Vienna and has a beautiful city centre.
Q: Our school is all about helping people who are learning English, but have you learned any other languages? How did you learn them?
Yes, in school I learned Spanish. We had to practice a lot but what helped me was reading books, watching TV-series and visiting Spain. In my opinion hearing people talk fluently can help a lot! So, you can easily improve not only your listening but also your pronunciation skills.
Moreover, my grandfather is from Italy so my family speaks Italian and so I wanted to learn that language too. I went to a language school and took Italian courses.
Q: What do you like doing in your free time?
I like to listen to music, sing and play the piano. I also love reading and spending time with my family and friends.
Q: What are your future plans?
I would love to travel the world and go to University.

Comments
comments