Go to Modern Art Oxford! It is an absolute must-see when you are at EC to learn English in Oxford. The best time to go is in the early morning when the museum just opens its doors. For people who like to escape from the overwhelming city – especially at the weekend – Modern Art Oxford is the right place. Although the museum is located near to the large shopping centre, the gallery is a hidden gem. Don't expect a huge building like the other museums in Oxford. This gallery is breathtaking due to its relaxing and inviting atmosphere. It's a pretty nice, small museum with different modern art exhibitions.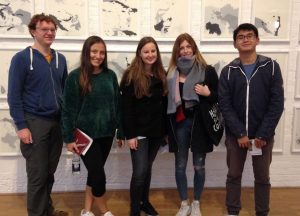 As soon as you come in to the gallery, you can appreciate an absolutely beautiful piece of art that can generate many types of imaginings. It must be said that the museum tends to change the exhibition programme to make it more interesting for the visitors. They usually show some contemporary exhibitions. The current exhibition is called "Future Knowledge". The main purpose of this show is to make people aware of environmental issues and how our actions affect the ecosystem.
The art suggests the powerful influence of climate change on the Earth over time and focuses on the concept of time related with living things. In one of the works, Eve Mutso, a ballet dancer, presents her aerial performance. Called "Loop", it shows deliberate physical movements in a period of time in order to show the impact when she draws with her feet on the ground. Her movements are obviously admired by all visitors.
Not only is the above worth mentioning, but also the huge range of the different kinds of art. You can find sculptures, several paintings as well as videos about environmental pollution. There is even a whole room covered in wallpaper which changes in response to the air pollution. It was also very impressive to see how many things are required to produce milk. There was a whole table full of milk bottles (more than 100 bottles) containing the different materials involved in milk production. It makes an impression on you because you realise how much goes into this process.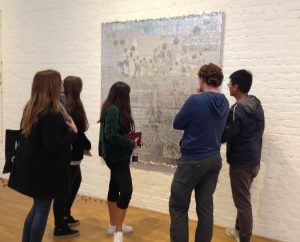 Another impressive work was called "Atlantic, Indian, Pacific". These sculptures showed the shape of the Earth's three largest oceans. Each of these steel bowls contain a solution of salt that reacts with the metal.
Nearby you can see tapestries made with emergency blankets with digital images of tree roots, human and animal figures, including the endangered yellow jackal. Viewing the work from different perspectives we can see the situation of life for different species.
If you are interested in our environment, you should definitely visit the stunning Modern Art Oxford. It will surely be a rewarding experience.
Comments
comments