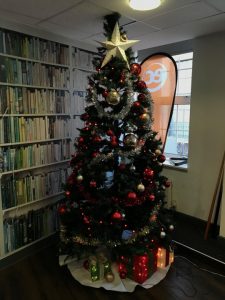 Our Christmas tree – decorated by students at our Christmas party in our Oxford English Centre.
Christmas is a magical time for everyone. It's all about love, joy, happiness and spending time with people you care about. But as there are cultural differences between every country there are also different kinds of Christmas celebrations.
Here at our Oxford English Centre is a melting pot of cultures and we can find out a lot about how Christmas is celebrated all over the world. Even though Austria is not far away from England, I realised a lot of things that are done differently here in Oxford.
Firstly, it's beginning to look a lot like Christmas when everyone here in England starts wearing their colourful and often surprisingly creative Christmas jumpers. I personally like this tradition a lot! We even had a Christmas Jumper competition at EC Oxford!
Santa Claus is coming to town, but not to my town. In Austria we have the so called "Christkind", who is an angel that brings all the kids their presents and puts up the tree.
So you see, we're also rocking around the Christmas tree but whilst people in Britain admire the beautifully decorated tree throughout the whole of December, everybody in Austria has to wait until the 24th. But when we finally hear the Christkind ringing its bell on Christmas Eve and we can see the Christmas tree for the first time- that's what I call Christmas magic! All the fairy lights, the presents and the glittering tree make children's eyes sparkle!
Moreover, I was surprised to discover the tradition of "Christmas Crackers". They consist of a wrapped and decorated cardboard that people pull and inside there is a paper hat, a bad joke and a little (and often disappointing) toy.
The Christmas Lights are my favourite part of the whole Christmas celebration. In England as well as in Austria everyone is getting ready for this special time of year by putting up fairy lights, candles and everything that glitters and sparkles. I love it when the city looks like a winter wonderland!
No matter where you are celebrating Christmas, it's all about having fun, kindness and spending the most wonderful time of the year with your loved ones.
Comments
comments