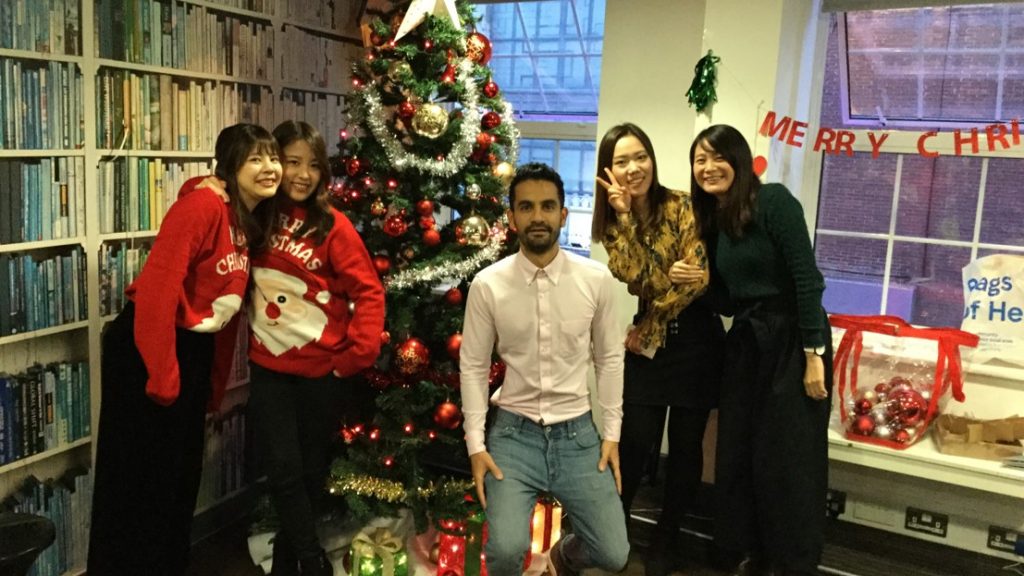 Our students in front of the decorated Christmas tree at our Oxford English Centre.
Christmas time at our EC Oxford English Centre was very special! Lots of our students are from countries where they don't celebrate Christmas. In some other countries the festive act of being together with their family and exchanging presents takes place in the night from New Year's Eve to New Year's Day. However, the tradition with Christmas trees, Christmas crackers or singing Christmas songs like in the UK is not part of the celebrations in their countries. To show our students our Christmas traditions and let them participate in this festive time in our country, we provided a lot of activities during this time.
On a bitterly cold Wednesday afternoon we went to the Christmas Market in the City centre of Oxford. The smell of the various tasty foods, the mulled wine and the hot chocolate was so inviting that we spent nearly two hours there! The decorations and fairy lights as well as the many stalls with their different Christmas treats made the visit to the Christmas market very enjoyable.
Christmas Crackers were new to many of the students, so one of the teachers did a 'Christmas Workshop' to demonstrate many of the Christmas traditions in the UK. The bad jokes inside the crackers and the paper crowns were the highlight!
The biggest event, however, was our Christmas party, which we celebrated in our large and festive decorated student lounge. Almost every student and all the teachers at our school attended, this made the event very special and enjoyable for all of us.
Our party began with a huge Christmas buffet – the fact that it was completely empty at the end of the party shows the popularity of the Christmas food which included mince pies, cheese and crackers, cold meats and lots of sweet treats!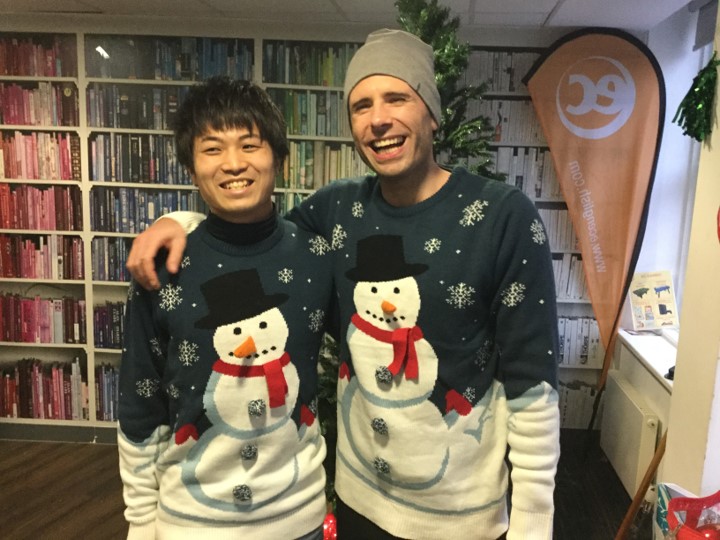 The student Kentaro from Japan and our teacher Paul are wearing a beautiful Christmas jumper at the party.
After the extensive Dinner, the student's decorated the Christmas tree with a lot of enthusiasm and creativity.
Further exciting activities at the party were the "Snowflakes-Factory" where the students made paper snowflakes or wrote Christmas cards which the students addressed to their loved ones.
The traditional Christmas game Charades and rock-paper-scissors led to even more excitement for the students during the funny party.
The wonderful ending of the party was that everyone, students and teachers, sang the popular Christmas song "We wish you a merry Christmas" together. After the Christmas party the whole school was in a Christmas mood and even days after this event the students and teachers were talking about the amazing evening.
Comments
comments