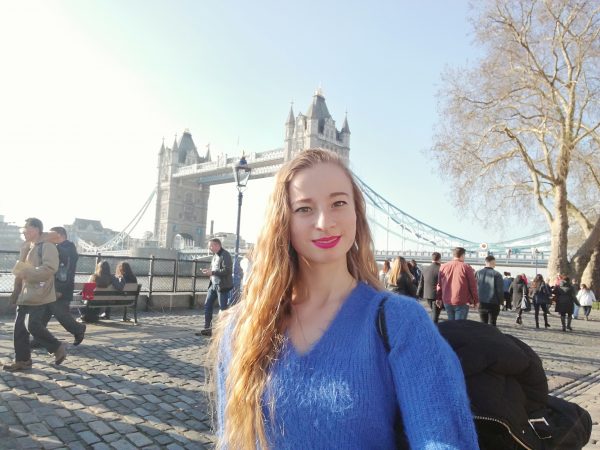 Welcome to Alexandra, she is from Russia but lives in Germany!
Before coming to Oxford I was an Au pair in Gloucester for a half a year. Before that, I was a student in an economy college.
Q: What is your role here in EC Oxford?
I am an intern of Student Services.
Q: What have you enjoyed about working at EC Oxford so far?
I like to meet the students with different cultures and meet people from all over the world. I like this job, because every day is different, and you don't have something the same. Every day you have a new task that is very interesting. I have very beautiful and friendly colleagues who help me with all and made a wonderful welcome area. I feel very relaxed next to my colleges.
Q: What do you like about Oxford as a city?
I find it's very nice to have so many options in this city. There are so many different people with their own culture, history and nationalities . You can meet really nice people who know different languages. Also if you walk in the city you can see many different food and things from other countries. I very like the buildings in Oxford, they are very beautiful and have very interesting history.
Q: What's your hometown? Can you describe it to us?
I was born in Germany in the city Koblenz. During my childhood I was in Russian in Sant Petersburg, It's very beautiful country and city. I studied in Germany and would fly to Russia only to visit my family and friends. After the seventh class I moved from Andernach where I lived before, to Dusseldorf.
Q: Our school is all about helping people who are learning English, but have you learned any other languages? How did you learn them?
I know three languages, my mother tongue is Russian, I learnt it in kindergarten in my childhood in Russia, then I learnt German in a special school. I speak Russian always with my family and I speak German with my friends. I like to listen to Russian music and read books. My second language is German which I learned in Germany for 12 years. I have many German friend from the school time, I like to meet them and this helped improve my speaking. My third language are English I have learned it 9 years in Germany. I like to communicate with people with different cultures and nationality.
Q: What do you like doing in your free time?
I like to spend time with my family, friends and boyfriend and have fun with them. Also I like to dance Latin American dances, swimming, skiing and traveling all over world.
Q: What are your future plans?
I want to be better in all my three languages. Get a diploma for an IT specialist and visit as many different cities as I can.
Comments
comments