We have a new member of staff in EC Oxford! Read all about Cassandra with these questions our students prepared, and why she feels like you when you learn English.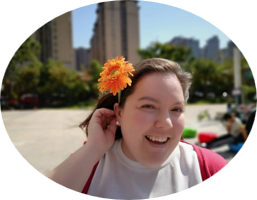 Q: What do you enjoy about working at EC Oxford?
I have only been at EC Oxford for a bit more than a week, so I can't say much! It has been very good so far, everybody is lovely and very helpful, so I think this is going to be a very good experience!
Q: What do you like about Oxford as a city?
The first thing everybody notices is all the university buildings, which are wonderful. I like that Oxford is a small city, but busy at the same time; there are loads of things to do, places to visit, parks to relax and enjoy the views! The view of Oxford from the top of the hill of South Park is amazing!
Q: What's your hometown? Can you describe it to us?
I come from a small city in the North of Spain called Pamplona. It is known worldwide for its summer festivities, San Fermin, and the running of the bulls – for one week in July, at 8 in the morning, there are bulls running through the streets! This usually lasts 3 minutes and even though it is dangerous, many people participate, especially from countries like the UK, the United States and Australia.
Q: Your job is all about helping people like us who are learning English, but have you learned any other languages? How did you learn them?
I was forced to study French at school, and I remember some of it, but I didn't enjoy it very much. I think when you are forced to learn a language, you don't enjoy it at all!
The language I really like learning and speaking (very badly!) is Portuguese. I took some lessons in Oxford and I hope to continue next September. I would like to go to a Portuguese language school (in Portugal, of course) to be able to learn at school, but also practise outside, like you all do at EC Oxford.
I understand how difficult it is to learn a new language, so if you have any problems learning English, please, ask me questions about my experience!
Q: What are your hobbies and interests?
I enjoy doing the same boring things everybody does: going to the cinema, spending time with my friends and family, reading…
But I also like music: I used to be able to play the piano and for reasons out of my control I had to stop. Sadly, I have forgotten most of it, but I'm learning again! I also play the flute, and I'm learning to play the ukelele. I also like to sing, and you might have heard me whistling around the office.
Q: What type of music do you like?
I like listening to Spanish music, both rock and flamenco. At the moment, Sabicas and Rosalia are number 1 on my playlist.
Q: What type of movies do you watch often?
Killer-on-the-loose kind of film for a Saturday afternoon, but my guilty pleasure is a good trigger-happy film in which the main character destroys the city whilst saving the planet from an alien invasion.
Comments
comments