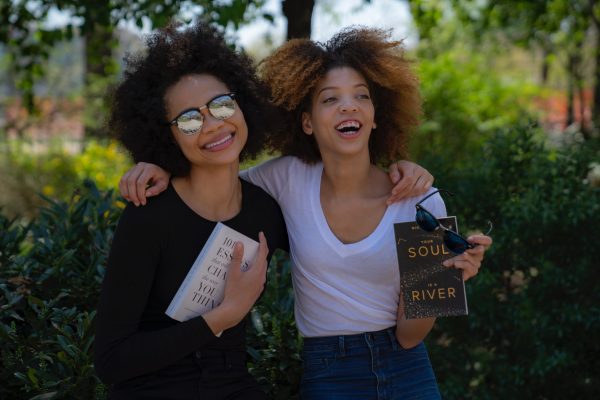 With this scorching weather, there's nothing better than popping into EC Oxford to enjoy the privilege of our air conditioner. No more t-shirt sticking to your back in the comfort of our fresh breeze. After your lessons, why not take a leap to the library and choose a great book before facing the heat of the Gloucester Green Square cobblestones again.
Here is a selection of books that we have – pick one!
Robinson Crusoe by Daniel Defoe: In 1659, Robinson Crusoe was shipwrecked on a small island off the coast of South America. After fifteen years alone, he suddenly learns that there is another person on the island. But will this man be a friend – or an enemy?
Aliens: is anybody out there? by Genevieve Kocienda: Are humans alone in the universe, or is intelligent life out there somewhere? Find out how people throughout the years have explored this age-old question.
Little Woman by Louise M. Alcott: 1861 – Massachusetts, North America. There is a civil war. This is the story of four sisters – Meg, Jo, Beth and Amy March. The March girls live with their mother in a small town. Their father is away. He is with the Union Army.
L.A. Winners by Philip Prowse: Follow the adventures of the best detective in Los Angeles!
The Canterville Ghost and other stories by Oscar Wilde: Sir Simon de Canterville is a ghost. He has lived in his house for hundreds of years. His job is to terrify the people who stay there. Then Mr Otis, an American, buys the house. And the ghost is angry – he cannot frighten the Otis family.
Oliver Twist by Sorrel Pitts: Oliver escapes the workhouse and goes to London. What happens when the artful Dodger takes Oliver to meet Fagin and his gang?
Dracula by Bran Stoker: Count Dracula is a vampire. He drinks people's blood. He lives in a lonely castle in the mountains of Transylvania. But then he comes to England and strange things start happening. People change. People become ill. Professor Van Helsing knows about vampires, but can he stop Count Dracula?
Casino Royale by Ian Fleming: For a moment, Bond lay still. Then the thin man came and pulled him up against the wall. He had a gun in his hand. He used it to hit Bond hard across the legs. Bond cried out with pain and fell on his knees. A door banged shut. Vesper and the third gunman had disappeared. Bond turned his head to the right and saw Le Chiffre.
Persuasion by Jane Austen: Anne Elliot falls in love with a handsome but poor young captain, Frederick Wentworth, but her father and friends persuade her not to marry him. Eight years later, Anne meets Captain Wentworth again to fid he has become successful and wealthy. Anne still has feelings for Wentworth, but he is angry with her – and possibly in love with another woman.
The Sparkling Cyanide by Agatha Christie: Six people sit down for dinner at the table laid for seven. No one can forget the night almost exactly a year ago that Rosemary Barton died at this same table surrounded by the same people, her beautiful face turned blue with cyanide poison. Rosemary had always been memorable – and people had strong reactions to her. Did one of the six people at dinner feel strongly enough about her to kill her?
"L" is for Lawless by Sue Grafton: When Kinsey Millhone is asked by a friend to help a family obtain a military funeral for a pilot called Johnny Lee, she soon finds that there was nothing simple about Johnny Lee's life. Why do the airforce have no record of him? And why his apartment burgled soon after his death? Then there is the large key which is found. What is it for? What secrets will it unlock?
Great expectations by Charles Dickens: In a gloomy neglected house Miss Havisham sits, as she has sat year after year, in a wedding dress and veil that were once white and are now faded and yellow with age. Her face was like a death's head; her dark eyes burn with bitterness and hate. By her side sits a proud and beautiful girl, and in front of her, trembling with fear in his thick country boots, stands young Pip. Miss Havisham stares at Pip coldly, and murmurs to the girl at her side: "Break his heart, Estella. Break his heart!"
A pocket full of Rye by Agatha Christie: Rex Fortescue, the boss of a financial empire, is sipping tea in his office, when he suffers a painful and sudden death. When the police check the victim's pockets, they find grain. Miss Marple knows one of the servants in Rex Fortescue's house and comes to help solve the mystery. She soon starts to suspect that she is dealing with a case of crime by rhyme.
Anna Karenina by Leo Tolstoy: Anna opened the carriage door and stepped down onto the platform. The wind and snow swirled around her and she took a deep breath of the freezing air. The storm was very powerful now. She took another deep breath and turned to go back into the train. As she turned, she saw Vronsky standing on the platform before her. He bowed to her and said a few words which she could not hear. All the time, he looked at her with the same expression – one of complete love. She was overcome by a feeling of great joy.
Pre-Advanced and Advanced:
Jane Eyre by Charlotte Bronte: Jane Eyre is alone in the world. Disliked by her aunt's family, she is sent away to school. Here she learns that a young girl, with neither money nor family to support her, can expect little from the world. She survives, but she wants more from life than simply to survive, she wants respect, and love. When she goes to work for Mr Rochester, she hopes she has found both at once. But the sound of strange laughter, late at night, behind a locked door, warns her that troubles are only beginning.
The Hobbit by J.R.R. Tolkein: Bilbo gets the call to go on the Hero's journey, but he doesn't want to accept the call, because it's not the way of dwarves. He reluctantly takes up the call to go on the Hero's Journey. He and the other dwarves face unimaginable obstacles along the way. Bilbo finds himself in situations where he is forced to become the unexpected leader.
Forest Gump by Winston Groom: No one is spared, and everyone is included. If you have ever felt lacking, left out, put upon – or just wanted to have rollicking good time – this book is for you. At 6'6", 240 pounds, Forrest Gump is a difficult man to ignore, so follow Forrest from the football dynasties of Bear Bryant to the Vietnam War, from encounters with Presidents Johnson and Nixon to powwows with Chairman Mao. Go with Forrest to Harvard University, to a Hollywood movie set, on a professional wrestling tour, and into space on the oddest NASA mission ever.
And remember, it is better to read a little than not reading at all! What about you, what is your favourite book from our library?
Comments
comments