Macbeth 
A hush falls over the crowd, the lights drop, and we can hear a piercing shout. Suddenly, a blood-covered man rushes out from the catacombs of the castle, panting and sweating profusely. He is fresh from battle, ranting about the victory that was just had. A victory, it seems, that was largely due to the courage of his brave Scottish general, Macbeth.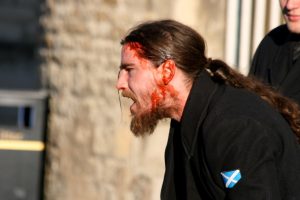 And what a beautiful setting for this, the third play that I've seen in the grounds of Oxford Castle. The sun is on the edge of the horizon, casting a beautiful array of shadows on and around the set, making this incredibly dramatic play even more so.
Anyone who knows anything about Shakespeare will know that Macbeth, otherwise known as The Scottish Play, is a story filled with suspense, horror, intrigue and, most potently, vengeance. In this story, the protagonist – the namesake of this play – receives a prophecy from a trio of ghastly witches that he will one day become King of Scotland. Consumed by ambition and spurred to action by the machinations of his diabolical and manipulative wife, Macbeth murders King Duncan and takes the Scottish throne for himself. Upon doing so, however, he is immediately wracked with guilt and paranoia.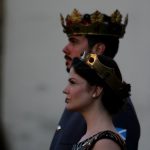 Macbeth's world quickly unravels and, well, to avoid giving any spoilers, I encourage you to watch one of the many plays put on by a myriad of companies – or, better still, to read the play itself. Shakespeare is one of the most widely-known writers not only because of his original stories, but also because of his use, creativity and total invention of language. Indeed, a huge amount of idioms – many of which I teach in my classes every day – were created by Shakespeare himself!
Here's a list of a few of them from this play alone:
To lie low – to hide, to stay out of trouble
After King Duncan was murdered, his son Malcolm escaped to England to lie low and stay out of Macbeth's way.
In one fell swoop – suddenly, in a single action
Macduff: All my pretty ones? Did you say all? O hell-kite! All? What, all my pretty chickens and their dam at one fell swoop?
N.B. although the original idiom was used with 'at', we now use the preposition 'in'.
Be all and end all – the end, the last word
success: that but this blow might be the be-all and the end-all
A charmed life – a life of guaranteed good fortune
I bear a charmed life, which must not yield, to one of woman born.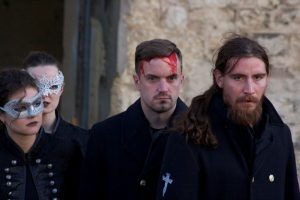 From the very realistic blood-stained hands of the murderer Macbeth,
to the hauntingly terrifying staring eyes of all those who he had wronged; this play was a stirring collection of thrilling and theatrical moments that wonderfully captured the raw essence of a play that is known for its harsh take on the sheer immorality of men, and the closeted ambition of women. After all, it was the grippingly emotive pleads of Macbeth's wife (a frighteningly good performance) that led him to commit the murder.
Overall, a stunning play, played by a stunning cast. It's difficult to find fault in a faultless classic. A huge congratulations to everyone involved, and especially to Tobias Forbes, who is as enthralling and engaging an actor as he is a teacher at EC Oxford!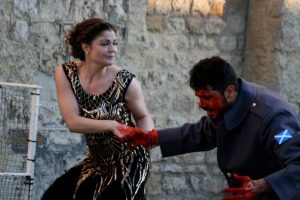 -Adam French
Comments
comments