September is here! What a fast year it has been.
Many people don't like the approaching colder months, but I admit I do. I love the colour of the trees, the cooler temperatures (you will never find me sunbathing in a country like Spain!) and it is a time to hunker down cosily at home watching good programmes on the television and lighting some candles. One of my other favourite past times is reading and I rarely get the opportunity to do so.
However, recently I had a week off work and amazingly, I managed to read 4 books in that time.
What I read
Two of the books I read were from Japanese authors. I am ashamed to say I read them in English though as my level of Japanese is most definitely beginner! One of the books was 'The Convenience Store Woman' by Sayaka Murata. It is a thin book and very easy to read about a lady who works, wait for it… in a convenience store. It is light-hearted and at the same time touching. I would recommend it.
'The Travelling Cat Chronicles'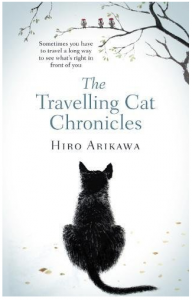 My favourite book, however, was 'The Travelling Cat Chronicles' by Hiro Arikawa. A superb and delightful little book about a man and his cat. Sometimes told from the cat's perspective and sometimes in the 3rd person, it recounts the story of a man trying to find his cat a new home by visiting 5 old friends to see if they will take it. Each chapter describes the history the man has with each of his friends and some parts are from the cat's perspective which seem unbelievably realistic. Having owned cats most of my life and loving them dearly, I could really imagine them thinking in this way about humans and other animals!
The book was in turns poignant, amusing and ultimately, I was in tears as the final chapter drew to a close. A wonderful story that has a bittersweet and heart-warming end.
Modern Japanese writing
If these two authors are examples of modern Japanese writing, I am definitely a fan! The style is light, amusing at times and observant without getting bogged down in heavy emotions. These two authors give the reader the freedom to interpret the events in their own way and apply whichever emotion they want to, to the varied situations.
I shall definitely be on the lookout for more Japanese authors to enjoy.
What books do you like to read? Do you read the same kind of books in your language and in English, or do you read different books when you are learning English abroad?
Comments
comments