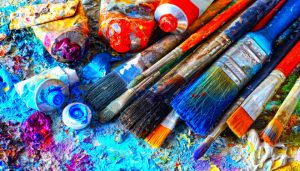 It is art attack week at EC oxford! Last week our students voted for the theme of the week. The choices were art attack or flora and fauna. Art attack won with 61 votes against 35 votes.
This week you can learn all there is to know about art. Not only in your lessons but of course we are also planning fun activities to do with art. If you want to know more about all the fun things you can do this week, you can find it all here.
Monday
On Monday we start the week with a welcome presentation. We have 17 new students this week so it will be a busy presentation. Be sure to join us at the students lounge to make them feel at home on their first day.
Afterwards you can join Lorna for homework club. Here she will answer any questions about your homework or any other problems you might have.

Tuesday
On Tuesday you can join our student ambassador Koki for laser tag! He will take you to Laser Combat Oxford. It will be a lot of fun so sign up and don't miss it.
Wednesday
Wednesday we have an ART workshop planned for you. Tobias will teach you all about art. If you want to join him, sign up at reception.
Thursday
On Thursday afternoon you can join Lucy to the Ashmolean museum. Here she has a a treasure hunt at planned for you and you can even win a prize…
In the evening our student ambassadors will bring back dinner club and take you to Cosmo for a nice meal. they have delicious food from all over the world.
Friday
This Friday at the farewell presentation we will say goodbye to the lovely students who are leaving. Come to the students lounge at 2.35 for their last day.
Comments
comments