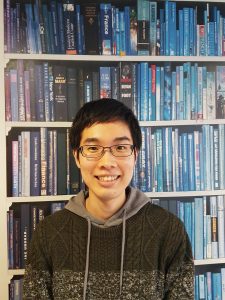 Koki is one of our new student ambassadors. To get to know him a bit better, we asked him to answer some questions.
1.What's your hometown? Can you describe it to us?
I'm from Japan and my hometown is Shiga. Shiga is in a west part of Japan. It's far from Tokyo which is capital city of Japan. However It is located next to Kyoto which is popular to foreign countries people. My hometown has the biggest lake of Japan. We can enjoy swimming in the lake in summer. Also we have many temples or shrines so you can enjoy both nature and history.
2.What did you do before coming to EC Oxford?
Before I come to Oxford, I have worked on cosmetic company in Japan. I was in sales department and negotiated with wholesalers to recommend our products to consumers. And then my company changed my position and sent EC Oxford me to improve my English.
3.What is your favourite thing about studying at EC Oxford?
EC Oxford always gives me good opportunities to study English. I think all teachers think about students seriously to improve their skill of English. They always enjoy teaching us and try to find the best way to teach English. So I feel I should react them seriously. This has good influence to each other.
4.What do you recommend in Oxford for other students?
You are so lucky to come to Oxford. You should enjoy Oxford as much as you can. Oxford is old city and has so many amazing building. You can enjoy old atmosphere. Some of them were used to make Harry Potter. You can take picture there. Many friends of you will envy you. Also don't forget to join EC activity. You can make so many friends.
5.Can you tell us one thing that surprised you about living in the UK?
I'm always surprised at UK's culture. The culture is completely different from Japanese one. The most serious things what surprised me is the culture of food. They don't eat vegetables and soups. When I go out to eat lunch or dinner, there are no option to eat soups. Of course some cafe or restaurant has soup but it's too expensive. In my country we often eat salad and soup with main dishes like meat or fish. So I was surprised it.
Comments
comments