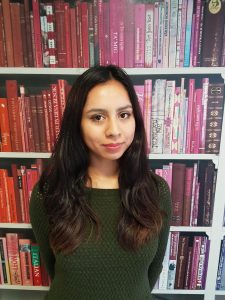 Marlene is our new student ambassador. She answered some questions for us, so get to know her a bit better.
1.What's your hometown? Can you describe it to us?
I am from Mexico a country in North America full of colours, tourism, food and services. I was born in Coahuila a state in the north with too many services and a diverse climate. When I turned 6 I moved to Tamaulipas because of my father's work in a completely hot and bilingual state on its border with the United States. 2 years later I moved to Durango a cold, small and cozy state where I spent most of my life. Then I went to study in Jalisco a degree for almost 4 years, a rainy state, large, full of tourism goods and services. And the state where I live today. Thanks to all this I have had the opportunity to know different places and environments and people within Mexico.
2.What did you do before coming to EC Oxford?
Before having this incredible opportunity, I finished my career and my degree exam in the Bachelor of International Relations at the Universidad Autonoma de Guadalajara in Mexico.
3.What is your favourite thing about studying at EC Oxford?.
EC Oxford offers a warm and friendly atmosphere to learn English as well as staff and students. EC Oxford offers different opportunities and environments to encourage you to improve your English! Practicing day by day with a balance in writing, speaking, reading and grammar classes. One of the best experiences is to be able to learn English with different cultures in one place, also a great benefit is to be able to learn in your home stay and practice English 24 hours a day.
4.What do you recommend in Oxford for other students?
Enjoy every moment and take advantage of the opportunities, time flies faster than you imagine. Participate in the activities of the afternoon as it is a great opportunity to make new friends while practicing your English. The best thing you can do to learn English is to practice it at all times at school, between classes, with your friends in your home stay and not be afraid to practice it.
5.Can you tell us one thing that surprised you about living in the UK?
One of the things that surprised me most about the UK is that people are too friendly and open, especially because of the mix of cultures. In its surroundings you find an incredible architecture and baroque in the buildings. The fields inside the schools are impressive and accessible to visit and you can enjoy a cozy coffee or tea in almost any corner.
Comments
comments