Sonia is the new Intern, read her Q&A to get to know her better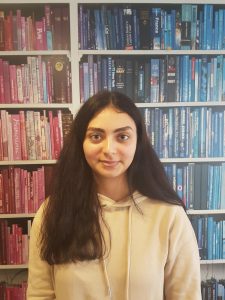 Q: What did you do before you came to EC Oxford?
Before I came to EC Oxford, I graduated from a Bachelor's degree in Foreign Languages Applied to
Business Studies, in Advanced English and Beginner Mandarin-Chinese. I am currently doing a
Master's degree in International Business & Management, and I am here at EC Oxford, as part of
my Master's degree mandatory internship.
Q: What is your role here in EC Oxford?
I'm a Student Services Intern. I work with Rachel, the Student Services Coordinator, and Iris,
another intern. My role is to make sure the students have a great experience here at EC Oxford by
supporting them in all the technical aspects of their stay: from registering at the school, helping
them with their host family/residency or answering any of their questions related to their stay. I
also support the organization of activities at the school.
Q: What have you enjoyed about working at EC Oxford so far?
I enjoy the friendly and multicultural atmosphere at EC Oxford. I also really like that I have
different kinds of missions during the day.
Q: What do you like about Oxford as a city?
I like the scenery of Oxford with all the old buildings. I enjoy going for a walk, so I really like that
you can get to everywhere in Oxford just by walking.
Q: What's your hometown? Can you describe it to us?
I come from Brest, in the region of Bretagne (in English: Britanny), in France. The region of
Bretagne shares a lot of cultural similarities with other parts of the UK such as Ireland or Scotland,
as Bretagne is one of the 6 Celtic nations. Brest weather is not the best, it rains a lot, but when it's
sunny it is really beautiful, and you can go to the beach for a walk and relax. During summer there
is a couple of big music festivals.
Q: Our school is all about helping people who are learning English, but have you learned any other
languages? How did you learn them?
I've studied Spanish in middle school and high school. When I watch Spanish shows, I can
understand the core of the conversation, but I'm really bad at speaking it. Currently, I'm studying
Mandarin at university, it is really challenging, but I really hope to become fluent in Mandarin one
day.
Q: What do you like doing in your free time?
During my free time, I like to spend time with friends, go to the movie or for a walk.
Q: What are your future plans?
After my internship at EC Oxford, I will enter the final year of my master's degree. After graduating
I would like to go to China to study and practice Mandarin and maybe find a job there in
International Business.
Comments
comments