A HIDDEN GUIDE TO…
Some of the Advanced students have written hidden guides to their countries of origin. Here we have the first one.
Maria Jose is from Chile and if you're thinking about visiting this South American country, she has a couple of tips that can help you enjoy Santiago, its capital.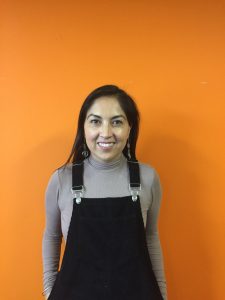 A HIDDEN GUIDE TO SANTIAGO DE CHILE
In the last years, travellers look for alternative places and experiences. If you travel to Santiago of Chile, I could recommended the typical places like sky centers, wineyards, or go up to the observatory in the Costanera Center, the tallest of South America, but I rather show you my favourites spots.
My first place is the Metropolitan Park, it was ubicated in the center of the city, where you can find innumerous pay activities, like zoo, cable car, o swimming pool, but my recommendation is go up the San Cristobal Hill walking, and you can enjoy the panoramical views of the city, meditate in the Japanese Garden or make a picnic in the middle of native trees.
If you are felling peckish, you have to visit the BioBio Market, here you can enjoy the tastiest, cheapest and typical food. My infallible is "Maestranza". When you are finished your meal, try to lose you into the stores and looking for hidden treasures like old records, vintage clothes, o antique furnitures with good prices.
And finally, if you want hanging out, Lastarria Street is flooded with stand of books, paints, bars, restaurant and coffees, if you are looking for some more animated, a few streets far away you have Bellavista neighborhood, there you can discover the most diversity of bares, clubs, or restaurants. In some clubs you can hear live music. This is the meeting point of the Santiago night life.
If you're learning English abroad, what places would you recommend to your classmates about your city?
Comments
comments