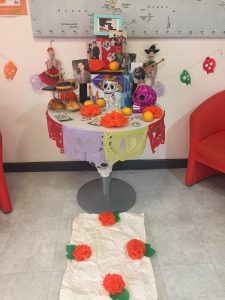 November 1st it was Dia de los muertos or Day of the Dead: a holiday celebrated in Mexico. Two of our Mexican students, Marlene and Pamela, made an altar in the school and played 'loteria' with the students.
Marlene wrote something to explain to you what Day of the Dead is:
"Hello everyone,
As part of the school activity we learned about the meaning of an important Mexican tradition that takes place in Mexico annually on 2nd of November, "Day of the Dead". As many may already know the Altar is an offering made at a table with food, toys and spiritual objects for those loved ones who have died, the reason to make an Altar is to be able to remember our loved ones in a cheerful and beautiful way. In this activity the students had the opportunity to take part in a tradition through photos and food offerings of their loved ones.
The altars can have 3 to 7 levels, the higher levels represent the sky and the lower levels the earth. Additionally, the four natural elements are represented as the wind with punched paper, water with a glass of water, fire with candles and the earth with seeds, meals, breads or fruits. Furthermore the altar should include photos of those who are dedicated to the altar, sugar skulls since these represent the souls of loved ones, salt to purify the souls and flowers of Cempasuchil to mark the way to the altar.
During the week we also had the great opportunity to play a Mexican game called "Loteria". In this game you have to fill all the empty spaces on a piece of paper with drawings and words that are announced by the game leader. So that is a great opportunity to learn a little Spanish."
If you want to learn about other cultures and improve your English, come to EC English Oxford!
Comments
comments