Visit the beautiful city of York
This month I would like to introduce you to the city of York. One of the reasons I love this city is because A) I was born there, and B) I was fortunate enough to be able to spend a recent birthday there.
Too often when students come to England and we ask them where they plan to visit, the answer we usually receive is 'London'. Now and again, more adventurous students may travel to Manchester, Birmingham or Liverpool. It always pleases me when students try to see more of our wonderful country than just the capital city. Great Britain has so much to offer and it is a shame to always head south of Oxford.
A Viking city
So, what can I say about York? It is a city similar in size to Oxford with a population of just over 200,000. It is a very old city that was founded in 71 AD. It has a lot of history and is famous for being a major river port during the time of the Vikings who captured York in 866 AD and renamed it Jorvik. There is now an award-winning museum called 'The Jorvik Viking Centre' where you can go to find out much more about the city during the times of the Vikings. Little pods carry you around a Viking village where you can see people at work, cooking and doing business. I certainly recommend it as it is fascinating.
York Minster

Another thing to do in York is to walk around the ancient walls. There is also York Minster which is one of the largest and most splendid cathedrals of its kind in Northern Europe! It was first built in 627 AD. Over its history, it has been damaged several times by fire and rebuilt to become even more beautiful.
The Shambles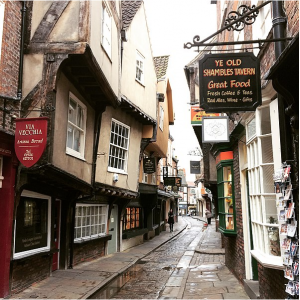 There are parks, restaurants and most particularly, wonderful shops you will not find in other cities selling unusual things. Many of these shops are on and around a street called 'The Shambles' which is one of the oldest medieval streets in England. The cobbled road is framed by old wooden houses, some of which date back to the 14th century. If you are looking for something different, you will definitely find it in this city.
The good news is, you can reach York by train direct from London and the journey is only a couple of hours despite the distance. The train station is a 10-minute walk from the centre of York.
So, if you are already in Oxford or are planning to come to EC Oxford in the future, why don't you take one weekend to head to north England and see what is on offer. I promise you will not be disappointed!
Have a great November!
Candice
Comments
comments