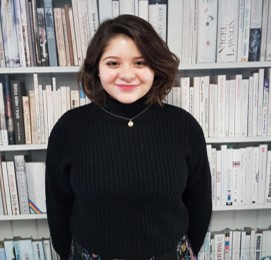 Pamela is our new student ambassador. She answered some questions for us, so get to know her a bit better.
1. What´s your hometown? Can you describe it to us?
I´m from México, a big country with a lot of biodiversity, cultures, wide gastronomy and incredible traditions. I was born in Guanajuato a small town located in the center of Mexico it´s a place full of celebrations, colors, architecture and history. Guanajuato is also the birth place of Mexican muralist painter Diego Rivera. One of our most important festivals is the FIC (International Cervantino Festival) takes place each october for two to three weeks, is a cultural buffet of music, theater, art and folklore; each year different countries throughout the world states within Mexico are invited to participate at the event.
2. What did you do before coming to EC Oxford?
Before coming to EC Oxford I was a student in Guanajuato finishing my high school. I took a year off to improve my English and be able to know other cultures and parts of the world. I want to study marketing when i get back to Mexico and save money to travel more.
3. What is your favourite thing about studying at EC Oxford?
My favorite thing about coming to EC is that every day you meet people new and creates friendships for all your life from all over the world, and learn not only English you can also learn about the cultures and ways of living in the world.
4. What do you recommend in Oxford for other students?
Don´t waste your time and enjoy the best you can. In Oxford it is easy to appreciate the beatiful Gothic architecture everywhere, you must know al least one collage, prove some of the delicious restaurants and handmade bakeries. I recommend you look into the story behind this fascinating city and know its surroundings.
5. Can you tell us one thing that surprised you about living in the UK?
The great story, it´s amazing everything that UK hides, everything that happened here makes me feel part of that story is magical to realize that everything you learn from the universal history in the school is true and you´re living there!
Comments
comments