Happy December everyone!!
December is one of my favourite months of the year. It brings to mind red and green, twinkling fairy lights, candles and cosy evenings at home.
While I am fairly typical for an English person in how I celebrate Christmas, there are some family traditions that make my celebrations slightly different.
Decorations:
I LOVE decorations – a little bit too much my partner might say!! My own tradition is that each year I buy more! Around September I begin visiting a couple of Christmas Shops to see if I can spot ornaments that I would like to add to my collection. There usually is! This year I bought a lovely ornament of Santa on his sleigh.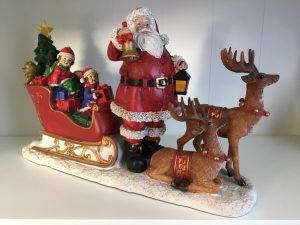 We decorate in the last week of November and turn our living room into a sea of red and green, complete with numerous lights and lots of ornaments, some of which move. My favourite ornament is an ice rink with tiny figures of ice skaters that move around the rink under tiny flashing lights.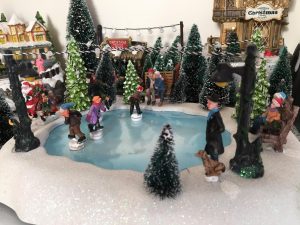 Another personal tradition is that each December 1st, my partner and I exchange a Christmas Tree decoration that we have bought each other and add them to our Christmas tree.
Advent Calendars:
We also love advent calendars! Several years ago, we had a chocolate calendar but were always fighting over who got the biggest chocolates!! So, last year we decided to also buy a traditional calendar with a beautiful scene and little doors which opened up to reveal wonderful pictures inside. These calendars remind me of my childhood and, in my opinion, are far more special than the chocolate ones. This year we also invested in a wooden advent calendar which has little drawers for tiny presents that we have filled for each other.
Christmas Day:
On Christmas Day, we exchange Christmas stockings over morning coffee which we have filled with a few small gifts for each other. After a morning of visiting close family in the area, we go home and like much of England, have Christmas dinner between 2 and 3 pm.
An old family tradition which I have kept alive is to open our main presents on the evening of the 25th December. When I was a child, I would open 'Father Christmas' presents in the morning of the 25th, while the evening was spent opening gifts from the family, and this tradition has continued in our family. So, while other people have opened their gifts by 8 o'clock in the morning, we keep the sense of anticipation and excitement alive for the whole day! We also take our time opening the presents, making it feel more special. The gifts are handed out one at a time and everyone waits until that person has opened their gift before the next one is distributed. I love Christmas and we do our best to make it feel as special and magical as possible!
Whether you celebrate Christmas or not, I wish you a very happy and relaxing December and all the best for 2020.
Why don't you celebrate 2020 booking a course to learn English in the United Kingdom? We'll be waiting for you!
Comments
comments