Christmas celebrations are different around the world. Every country has its own traditions, and within each country, different areas will have different traditions, too!
I'm from the north of Spain, where we keep traditions that everyone else celebrates, but we also have our own. Keep reading to find out!
Christmas Eve
On Christmas Eve, families generally gather to celebrate together. There is a big feast with many different kinds of food: roast lamb, seafood, soup, cakes… the list is endless! When I was younger, we used to sing Christmas carols, but I think we're all too old for this, now. My grandmother really liked playing Bingo, and this is something we still continue to do. It gets a little bit boring after a few rounds, but we always play some rounds.
Christmas Day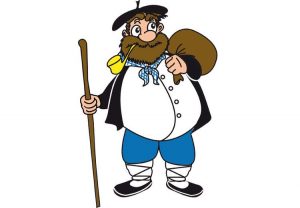 For children, Christmas Day is one of the best days of the year, as we get to open presents. In many countries, a character like Santa Claus/Father Christmas/Pere Noel brings you presents the night of the 24th of December. This also happens in Spain, but in the North of Spain, we have a different person that does so: Olentzero.
Olentzero is a coalman who lives in the mountains. When I was younger, Olentzero was seen as not a very nice man, he was portrayed very much as a "Scrooge". This has recently changed, and he is now seen as a kind, old man who will bring presents to those children who behave correctly throughout the year, and coal to those who are a little bit naughty.
New Years' Eve and New Years' Day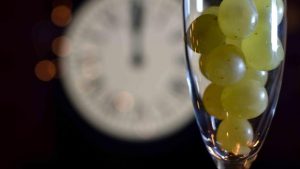 New Years' celebrations are by far my favourite.
Traditionally, on the 31st of December, we all have dinner with our families. The best part comes at midnight: throughout the whole country, we sit and watch the TV to listen to the bells chime. As each strike rings, we all eat a grape. These grapes represent the 12 months of the year and if you don't eat them, it means you will have bad luck!
About an hour after midnight, I usually go out with my friends to celebrate the New Year. In my city, Pamplona, we all wear costumes. This tradition started in the 80s, when a radio station organised a costume contest. It was so popular that the whole city dresses up now!
The Three Kings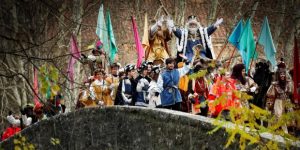 While in many parts of the world, Christmas finishes on January 2nd, in Spain it continues until January 6th.
On Twelfth Night, we celebrate the arrival of the Three Kings, or the Three Wise Men. In many cities, there is a cavalcade on January 5th in which the Three Kings say hello to all the children who will be awaiting their presents in the morning of January 6th. Growing up, I only received presents on this day, so this is a very special date for me. It is a magical night for everyone!
However you celebrate Christmas, I wish you a very happy end of the year and a great start for 2020!
If you have never experienced Christmas in the UK, why don't you come to EC Oxford during the festive period?
Comments
comments