Christmas celebration is quite different around the world. If you would like to know how Christmas is celebrated in France, keep reading.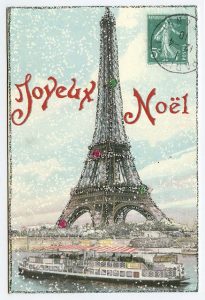 In France, the entire month of December is dedicated to the preparation and the celebration of Christmas. The streets and the shops are beautifully light-up and decorated. Everyone set up a Christmas tree. Family and friends send each other Christmas cards. Kids are writing wishes lists to Santa Claus. And you can ear Christmas choral… almost everywhere!
December 24th, Christmas Eve
On December 24, during the day, you will get to see a couple of people running around shopping malls looking for presents at the last minute. In the evening, families will gather to enjoy a nice dinner of seafood, toasts, turkey, roast potatoes, wine, cheese, and Yule log. Some people may go to Church to witness the midnight mass. Some people like to open presents during Christmas Eve dinner, while others like to wait for Christmas day morning.
December 25th, Christmas Day
Christmas day is a bank-holiday all around France. This allows people to spend the day with their relatives. Around 12.00 o'clock, families will gather to eat Christmas Eve's leftovers and chocolates.
Christmas in France is a great opportunity to reconnect with the family, eat as much as you can, and reflex on your year… and watch your drunk relatives discuss politics 😂
Comments
comments