Now  you will learn about some surroundings parties of Christmas in Mexico. It's important to remember that some traditions come from Spain and another's transform due to Mexico.

Nacimientos
In Mexico the catholic religion commemorates the birth of Jesus setting up on 16th of December the "Nacimiento" that represent the birth of Jesus, afterwards people add the baby Jesus in the "Nacimiento" on 24th of December

Pastorelas
There are theatrical presentations of the shepherds that travels on their way to see the birth of Jesus. These presentations are usually comic for the public, with some obstacles as devils and angels. These initiated during Mexico's colonial period as a way to teach the native people about Catholic dogma.
Villancicos
In Mexico you realized that Christmas is coming when you start to hear some popular Christmas songs as "Campanas de Belen", (Bethlehem's Bells), "Los Peces en el Río" (the Fishes in the River), "Noche de paz" (Silent Night) these songs had been part of the cheerful atmosphere.

Christmas Posadas
The "Posadas" in Mexico are a cheerful celebration of carols which try to recreate the search of Mary and Joseph for a shelter in Bethlehem. You can enjoy these processions with all your family and friends. Is a tradition carry out "Posadas" nine days before Christmas, so would take place from 16th December to 24th December.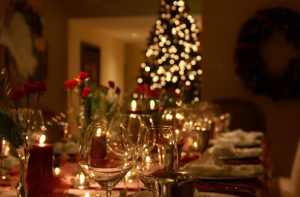 Noche Buena and Christmas Day (24-December and 25 December)
The big festivities arrive on "Noche Buena" (Christmas eve), a night to share and give. Mexican families are used to have a big dinners with their family and friends for the next night, something that will surprise you is that is not traditionally exchanged gifts on Christmas, just in case you have children.

Día de Reyes (06-January)
The Día de Reyes (King's Day) this day is special for many catholic people that celebrated the arrivals of the three kings that come down from heaven to witness the birth of the child Jesus. This day of celebration is accompanied with a circular breath, called "Rosca de reyes" (Kings bread day) this traditional breath has the customs. If you find a tiny doll inside the breath (there are many and represent the child Jesus) you will have to bring to everyone around the celebration a special meal called "tamales" on "Dia de la Candelaria" the tamales are made of dough different kind of meat or pineapple and raisins if it's sweet, these are wrapped with a corn husk.

"Día de la Candelaria" (02-February)
This day marks the end of the Christmas in Mexico and some families takes their children to the church to be blessed. This is the day when the people who got the tiny Jesus doll share tamales with everyone that had been in the celebration.
If you want to know more about others cultures and learn English, feel free to join to our team EC Oxford in England, where you will find a lot of experiences and different ways to improve your English.
Comments
comments