3rd February at EC Oxford
Diversity Week
Hello everyone!
The first week of February is over and here at EC Oxford, we had a blast!
Sadly, Australia is suffering their worst summer season, with bushfires rapidly going through their natural parks. These fires have claimed wildlife territory, the koala population has decreased in more than a third, and firefighters are working harder than ever.
At EC Oxford, we have decided that February will be our month to give back. Throughout the month of February, we are going to hold different activities to raise money to help WWF, a charity which is helping the koalas.
This week we had a great topic, Diversity. In February we celebrate the month of LGBTQ History, so this is the perfect theme!
Monday
On Monday, we started, as usual, with our Homework Club with Lorna. Students pop in to have a chat with Lorna about their homework, or about any other questions they may have. Most of the times, these questions are about their learning, but Lorna has answered many questions about British culture, places to visit in Oxford… Now you know, if you have any questions, make sure you visit Lorna next Monday!
Also on Monday, Malachy showed the new students some tips to learn better, and they had a chance to check how much they know about Oxford. After this, they all went to a café with some of our current students and practised their English.
Tuesday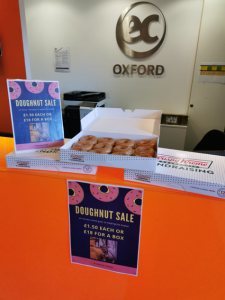 On Tuesday we had our first fundraising activity: we sold doughnuts! Buy a doughnut, save a koala. Most of our students and staff helped and we raised over £100! Thank you, everyone, who helped!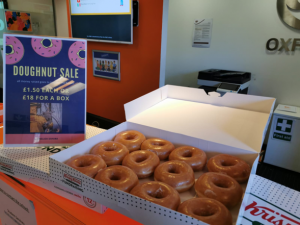 Don't forget, however, that we have not stopped the fundraiser. Every week, we'll have an activity ready for you. You can also donate money on our Facebook page.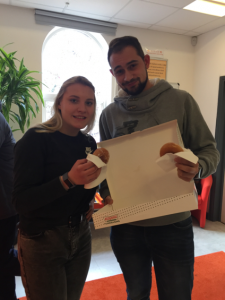 We don't want our students to feel bored, so every Tuesday, our teacher Malachy will be showing the students a couple of things they can do over the week and at the weekend. This weekend, you can Discover Improv at the East Oxford Community Centre.
Wednesday
On Wednesday we had a lovely workshop to learn how to use EC Online, make sure students know how to log in and find their assignments, among other tasks. This workshop will run every month and it should help students find their way around this online learning platform.
Remember, after you finish your course at EC Oxford, you still have three months of free access! What a great way to learn English outside the classroom!
Thursday
Continuing with our theme, we organised a workshop in which students had the chance to discuss how society treats disabled people. To spark the debate, we used a short video of a boy called Ian who has cerebral palsy.
Friday
As usual, on Friday we had our Farewell Event in which we said goodbye to some of our students.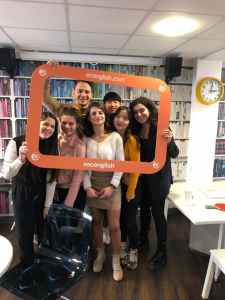 If you want to learn English abroad, do not hesitate and enrol in one of our courses now! You won't regret it!
Comments
comments