Philipp joined the EC Oxford team a couple of weeks ago and in this post, he answers a few questions for us to learn a little bit more about him. Keep reading to find out more!
What did you do before you came to EC Oxford?
In July 2019 I made my A-Levels (Abitur) and graduated from high school in Germany. After school, I decided to take part in an assessment centre of one of Germany's leading Law Schools in Hamburg. When I finally got the confirmation that I was accepted, I decided to take a gap year before starting my law studies in September 2020. The university was very helpful and reserved my place so I can start studying this year. Before I came to Oxford, I was working on my family's farm and forests and in an agricultural exhibition to earn some money for my trip abroad. Of course, there was also some time for holidays with my twin brother and some friends.
Before the internship started, I have been a student myself for two weeks, here in Oxford, to refresh and improve my English, especially my fluency.
What is your role here at EC Oxford?
I am a Student Services intern at EC, which means that you can find me next to Rachel at the reception. There is a wide range of tasks I am dealing with. For instance, I am creating most of the presentations for the Welcome and Farewell Event. Moreover, I help Rachel with the administration, for instance, accommodation, taxi booking, creating new lists of arrivals and leavers and of course I am updating these lists frequently. I am also the contact person for the students and I try to help Rachel to solve problems. Besides, I do the Oxford guided tours for new students every Sunday at 11:00 am. New and current students, please feel free to join us.
What have you enjoyed about working at EC so far?
I enjoy working with a great and helpful team every day. Everybody is nice and I can always ask if I need help. For me, it is also nice to work with a computer most of the time. I am clearly developing my "IT-skills" as well as my ability to do multitasking since there are often two tasks and a student request to deal with at the same time. Furthermore, it is a nice feeling to help students and to solve their problems. I enjoy working with people from all over the world most.
What do you like about Oxford as a city?
I really love the old buildings and other historic places here in Oxford. The spirit of the University and the colleges is always present and it feels like walking through Hogwarts most of the time. Besides, I enjoy exploring Oxford's famous pubs with friends at the weekend. On top of that, I love the Blackwell book shop and the museums like the Ashmolean or the Natural history Museum where you can read, relax and learn something about history, culture or art. When it comes to culture, it is worth to mention that I already visited the Sheldonian Theatre twice to hear performances of Beethoven and Bach. This was very impressive.
What's your hometown? Can you describe it to us?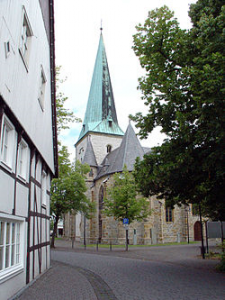 My hometown Langenberg (long hill) is located in north-west Germany, close to the city Bielefeld, where our teacher Howard has spent some years to teach German students. My hometown is a village of about 9000 citizens. It is a rather rural area which is well connected by the famous German "Autobahn" to bigger cities like Dortmund, Hannover or Cologne. My hometown itself offers a wide range of activities and clubs. The football, handball and especially the shooting club (Schutzenverein) are very important in my hometown. Especially the annual three days lasting celebrations of the shooting club are very famous and well known in the surrounding towns and villages. Although we are not in Bavaria, there is also an "Oktoberfest" every year.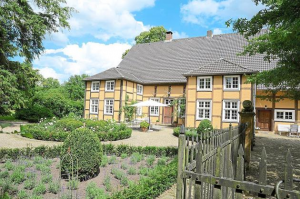 Have you learned any other languages? How did you learn them?
In Germany, everybody has to learn at least two other languages to qualify for the final exams (Abitur). I learned French and Spanish for two years in high school and English since I was seven years old. But I have to admit that my French skills are not nearly as good as my English. My Spanish instead is okay but I had not had much practice since I graduated (time for a Spanish language course).
What are your future plans?
As I already explained, I will start my Law studies in fall 2020. Before that, I will take part in another internship, this time in a law office in Germany.
I am not sure what job I would like to perform after my studies, but I can imagine working as a lawyer for a company, a bank or even for the German state and its different ministries.
Thank you, Philipp, for taking the time to answer our questions!
If you're thinking about doing an internship while you learn English abroad, do not hesitate to contact us! We are always happy to have one more intern!
Comments
comments