Hello everybody! This week, we are all about stories, so tune in to learn more!
Monday
On Monday, we had our usual timetable. Lorna ran her Homework Club as smoothly as usual. Remember, you can always attend this club for 5 minutes, or for 60 minutes. It is a great opportunity to ask those questions you don't have an answer for.
Every Monday, Malachy takes care of our new students showing them a couple of presentations to help them get to know the city of Oxford and to show them how we learn. He then takes the new students, and usually a bunch of current students, to a nearby pub or café. This gives them a chance to get to know other students and practise their English!
Pancake Tuesday
This week is Pancake Tuesday and we're celebrating! We will have pancakes at school with a variety of toppings so our students can choose their own: golden syrup, Nutella, fruit, you name it! For only £3, you get two pancakes and any topping you like.
Before the celebrations begin, Malachy will show everyone a few social options to do at the weekend: from free concerts to exhibitions, there is always something to do in Oxford!
Wednesday
On Wednesday we are going golfing! EC Oxford will go to Junkyard Golf, a place with the craziest golf. Make sure you sign up before lunchtime so we can book your space!
Thursday
We have a very special workshop on Thursday: Lorna is delivering an amazing workshop on Storytelling. Lorna has a lot of experience in storytelling and has been training our teachers at EC Oxford. If you want to learn a few storytelling techniques and feel confident about telling a story without needing to look at your notes, this is a workshop not to miss!
Friday
As usual, our Breakfast Club will be running as usual. This is a great opportunity to practise your English with other students and have a little bit of OJ while doing so.
Weekend
Don't forget that there are things happening at the weekend!
You have the option to go on trips around the UK. This weekend you can visit Shakespeare's birthplace, Stratford-Upon-Avon, and visit some of the quaintest villages in the Cotswolds.
You can also travel abroad! On Friday, there is a trip to Amsterdam and Bruges. Make sure you have the necessary visa to travel to Europe.
On Sunday, we have a walking tour around Oxford to show the new students around. Current students are always welcome to join, and they always do! It is very nice to see the current students meeting new students on Sunday. Here's a pic of last Sunday's tour: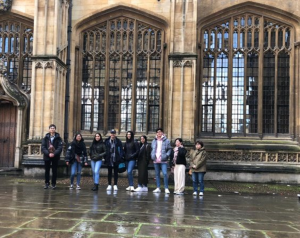 If you're thinking about learning English abroad, do not hesitate and contact us!
Comments
comments