EC San Diego Volunteer Placement Program
Miki Shimamura, La Jolla Elementary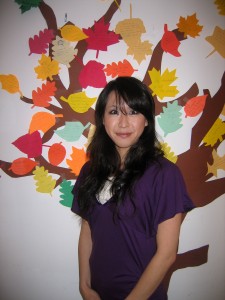 Miki Shimamura is an EC student with a love for kids.  When she returns to Japan, she plans to teach English to kids.  In order to gain experience with kids, she decided to become involved in EC San Diego's Volunteer Placement Program.  She was placed at La Jolla Elementary School as a Child Care Volunteer.  Read more about her wonderful experience below!
Why did you choose to volunteer with kids?
I chose to volunteer with kids because when I go back to Japan, I want to start teaching English to kids, so I think I need to have experience.  When I was in high school, I studied in Australia and I had a small host brother.  When I was in university, every year I would go to Portland and live with a host family with kids.  My experience with kids made me want to volunteer with kids.
What was your first day like?
Before I went there, I was a little bit nervous because I didn't know anything.  Also, I was excited because I didn't know what I would do.  But the first day, the kids came to me and asked "who are you?"  And the teacher introduced me and told them to ask me if they had any questions.  It was amazing.  The kids are so cute.  They are like the kids that I see in a movie.  They always run away and scream.  It was like a zoo.  They always make me laugh.  It was so great. 
What do you do as a Child Care Volunteer?
I play with kids.  I play tag because they tell me to play tag. I make origami.  Sometimes, if I can, I help with homework. I also draw pictures and play football on the field.  I teach them Japanese words like "hello" and "goodbye".  I do as many things as they want.
What is your relationship with the YMCA teachers like?
The teachers are so kind to me!  When I first opened the door, they greeted me.  They want me to do many things and they are very patient with me.  They gave me their email addresses and want to keep in touch with me.  They want to know about Japan, and so I talk about when I was a student and the school system. 
What is the most memorable thing about this experience volunteering with?
My favorite thing is playing tag because they always invite me to play tag.  When I first arrived there, they wanted to play tag with me.  Also, on my last day, last Friday, the kids made me cards.  They jumped on me and they said to me "Don't go! Don't leave me!  I am sure I will go to Japan when I grow up!"  I really wanted to cry at that time.  When I go back home, I will read the cards and then cry again. 
How has volunteering helped to improve your English skills?
I think that even though the words that the kids speak are not always correct, it is good for my English because it is easy to listen to.  I have to listen carefully.  I think I have to answer correctly, but I can't always because it is difficult; more difficult than studying here at EC San Diego.  I really feel that my listening skills and speaking skills have improved because I learned new words and I learned kid's songs.  The kids recommended some songs that they like.  The teachers taught me how to take care of the children. For example, when someone is crying or when they are noisy and have to be quiet. 
Do you have any advice for people who are interested in volunteering with kids?
Just enjoy.  I really enjoy myself with them.  I never had this experience in Japan.  Students should do this because you can have a new experience which you cannot get in the classroom.  Volunteering with kids is a real experience and prepares you for the real world. 
Comments
comments