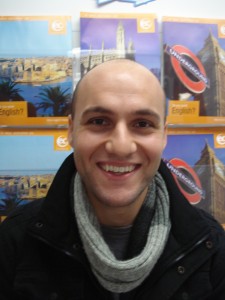 Giusanto Rainone is a very interesting student from Italy. He arrived in San Diego in October 2009 and is studying English because he wants to improve his English skills, explore California, and meet new people. Read the interview below to learn more about Giusanto.
What do you like about EC San Diego?
The people who work at EC are very kind and give me a familiar sensation. I am very lucky. The teachers explain in a good way to let me understand words, and if I have some problems, I can ask. They make the classes interesting.
Are you learning English effectively?
Everybody tells me "yes!", but I really don't know. I see that I speak more fluently. I can explain my point of view better than before. Sometimes I think that I am not really sure if my English is improving the way I would like.
Do you have any advice for students who are interested in studying at EC San Diego?
Once you begin, you have to understand in which classes you really belong because sometimes the student can be too shy to ask if he or she can change to a more challenging class. This is important because, if not, you will return to your country with little improvement. You should make your own way. If you have to ask something, you must ask for more material and anything that stimulates you more. Don't worry because the people at the school understand the feeling of the students. You have to understand, choose, and ask!
What is the best thing about San Diego and La Jolla?
It is beautiful, relaxing, and the people are very kind. From San Diego you can go to SF in one and a half hours by plane. Los Angeles by car in two hours. Hawaii in 5 hours by plane. Las Vegas by plane in 1 hour. Plane tickets are cheap.
How is your life in Italy different from your life now in San Diego?
Completely! Everything is different. From the system of the school to the restaurants, and meeting people in bars and nightclubs. It is a very different kind of life.
What are your goals in life?
My goal in life is to achieve a good work position in a bank. Through this experience at EC San Diego, I would like to get a better life; most importantly a wife and kids. Normal things and, of course, to be happy!!
Where do you see yourself in 5 years?
I never like this question, but if I should think about…I think I will be in a good way with a good work position and a family.
Comments
comments