Many students have trouble pronouncing certain English sounds that do not exist in their native language.  One example is the difference between /L/ and /R/ sounds.  During EC San Diego English school's weekly free pronunciation clinic, teacher Jerrod goes over these sounds with a group of students.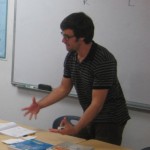 "It is very important," he points out, "to think about your tongue."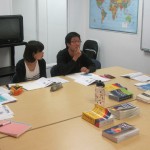 This is very true!  When pronouncing the /L/ sound, you place the tip of your tongue on the upper ridge of your gums without touching your teeth.  For the /R/ sound, you arch your tongue up without touching gums or teeth.  Try it!
Comments
comments