You finally arrived in San Diego, you are so curious to discover the city and California, but you don't know where to go first? No, problem! Join us on our January activities: Go on a hiking tour, travel to San Francisco, Santa Barbara, Los Angeles, Las Vegas or go skiing and snowboarding at Big Bear. Or what about a good work out while playing beach volleyball or basketball? Or have you ever tried skydiving?
Moreover, you can join our free classes every Wednesday: Learn more about other cultures in the International Culture Club or improve your English in our Pronunciation Class!
We guarantee you will have a great time in San Diego!
Your EC San Diego Team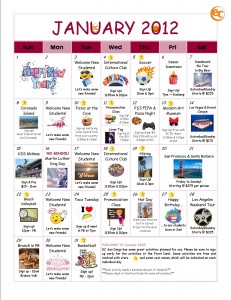 Comments
comments