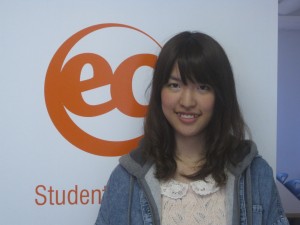 Kozue Jinnouchi is originally from Japan and has been studying General English. We sat down with her to get her input about EC San Diego.
HOW DID YOU COME ACROSS EC? I found out about EC ENGLISH on the internet and a booklet.
WHAT IS THE MOST EXCITING THING YOU HAVE DONE IN SAN DIEGO? I went to Sea World with my friends and watched some dolphin shows! That is my most exciting experience!
IS THERE ANY ADVICE YOU WOULD GIVE TO STUDENTS INTERESTED IN LEARNING ENGLISH? If you are interested in learning English, you should study abroad and come to EC. You also make a lot of foreign friends!
Comments
comments