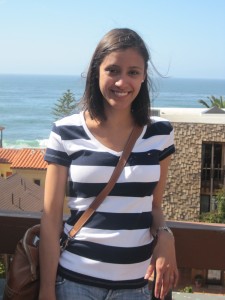 Sofia is from Paraguay in South America. Paraguay is bordered by Argentina to the south, Brazil to the east and Bolivia to the northwest.
Sofia has been studying at EC San Diego since February 19th, 2012 and is taking the Intensive Course. A friend recommended EC and she chose EC San Diego because of the weather and also the location which is close to other interesting cities. So far she has traveled to Santa Barbara, San Francisco, Santa Monica, Las Vegas and Los Angeles to watch the Lakers game. She has also been to Six Flags, San Diego Zoo, Universal Studios and Disneyland!
We asked Sofia what the most exciting thing she has done in San Diego so far and she said meeting and making new friends from all around the world and going to parties with them. She says she will definitely come back!
What advice would you give to students interested in learning English? – They should come to San Diego. It is a great city that has everything to do and EC is definitely a great school. People are great and the teacher are very funny! The classes are fun and at the same time you learn.
Comments
comments