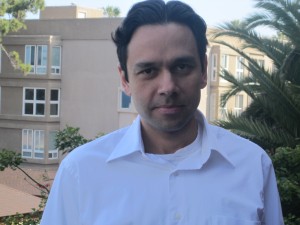 Adolf Schmuck is an EC San Diego English School instructor who is teaching Grammar In Action, Higher Intermediate and Academic Skills classes. He was born in Germany and moved to San Diego when he was a baby. He grew up in Spring Valley and considers San Diego his home. Adolf has a Bachelor of Arts degree in General Humanities and a Masters degree in Linguistics from San Diego State University.
Adolf lived in Taiwan for 2 years and just came back from Korea where he was teaching English as well. We asked him what he thinks about EC San Diego and this is what he said; "I like the people I work with and everyone is friendly. There is a nice mix of students and I like interacting with them".
When Adolf is not teaching he enjoys travelling, and music. He is also in a band that has been performing around San Diego for about 2 years. He will let us know the next time he is playing so that we can attend.
Comments
comments