Memorial Day is one of the most important holidays in the U.S. Observed annually every last Monday of May, people usually take time off from their work and other activities to reflect on the significance of this celebration.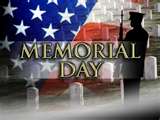 Why do we celebrate Memorial Day here in the U.S.?
The primary reason why people celebrate this special event is to remember the lives of U.S. soldiers and other military personnel who sacrificed their lives and died in honor of their country. Today, the entire country celebrates this event to honor all the Americans who have died while taking part in any kind of military action or war.
People usually visit memorials and cemeteries in observance of this very special day. Every 3PM of this day, the whole country holds a national moment of rememberance. May people also spend this time with their families and friends. Together, they cook and eat barbecues while enjoying the presence of one another.
Have a safe weekend.
Comments
comments