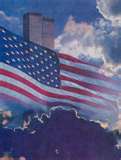 To many Americans, that painful morning 11 years ago today still feels raw. 9/11 was one of the worse tragedies in our history. Hijackers steered American Airlines Flight 11 and United Airlines Flight 175 into the twin towers in New York city. The hijackers also plunged American Airlines Flight 77  into the Pentagon.
A 9/11 memorial service was held at ground zero, one of the sites of the attack in New York. The ceremony featured moments of silence marking when the planes hit the towers, the Pentagon and another plane in Pennsylvania. Families of the victims also read their names.
Here in San diego, 9/11 is being remembered with ceremonies as well at the downtown fire station at 1st Avenue and B street. Artists will display charcoal drawings of three New York city fire fighters raising the American flag at ground zero.
Events will also be helt at UC San Diego, University of San Diego and Grossmont and Cuyamaca Colleges.
Comments
comments